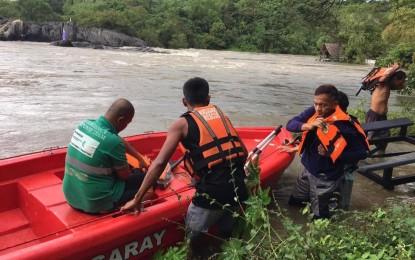 NORZAGARAY, Bulacan – More than 2,000 residents in three low-lying barangays of this town were evacuated after their villages were flooded following the release of excess water from Angat and Ipo dams on Friday and Saturday.
The town hosts the two dams providing more than 90 percent of Metro Manila's potable water supply.
The Angat and Ipo dams started releasing excess water on Friday at 8 a.m. and still releasing until Saturday, according to the Bulacan Provincial Disaster Risk Reduction and Management Office.
At 6 a.m. Saturday, Angat Dam still had three gates open at 8.5 meters, while Ipo Dam had six gates open at 9.2 meters.
As of 8 a.m., the water level of Angat Dam is at 214.80 meters against its 212 meters normal water level.
The Ipo Dam's water level is at 101.04 meters compared to its spilling level of 101.00 meters while water level of Bustos Dam in Bustos town in this province is at 17.42 meters against its spilling level of 17.00 meters.
Grace Osido, information officer of the municipal government of Norzagaray, said Barangays Matictic, San Mateo and Poblacion were hit by floods after the Angat river overflowed due to the release of excess water coming from the Ipo and Angat dams.
"The floodwaters affected 2,007 individuals, 806 of whom are children, and were brought to evacuation centers in the said villages," Osido said in an interview.
The displaced individuals are temporarily sheltered in three evacuation centers, or one center in each affected barangays.
The municipal government of Norzagaray led by Mayor Elena Germar gave relief goods to the evacuees.
Meanwhile, Katrina Anne Bernardo Balingat, chief of Bulacan Provincial Public Affairs Office, said "Bustos dam has to release water because the water discharges from Angat and Ipo dams find its way to the former and eventually drains out to the Manila Bay."
She added that the provincial government is still collating the total number of residents in the province affected by the water release of the dams.
Continuous downpours into the reservoirs on Thursday, primarily due to two weather systems prompted the release of excess water. (PNA)