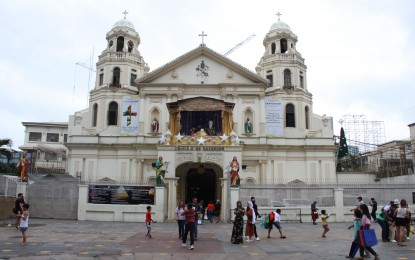 MANILA – More than 88,000 devotees on Saturday joined the initial activities that lead to the celebration of the Feast of the Black Nazarene on Monday.
As of 6 p.m., the Quiapo Church Command Post (QCCP) estimated that over 39,000 went to the Minor Basilica of the Black Nazarene, also known as Quiapo Church, in Manila.
Meanwhile, almost nearly 48,000 devotees proceeded to Quirino Grandstand also in Manila for the "pagpupugay" or the viewing and touching of the image, which has replaced the traditional "pahalik" (kissing) to prevent the spread of the coronavirus disease.
The Walk of Faith was held instead of the traditional "Traslacion" where the image of the Black Nazarene on an andas (carriage) is transferred from the Quirino Grandstand to the Basilica, as Covid-19 remains a threat.
The last Traslacion was in January 2020 which lasted for 16 hours and 35 minutes and drew some 3.3 million attendees.
The "pagpupugay" will run until the feast day on Jan. 9.
A "Walk of Faith" procession without the image will be held from Quirino Grandstand to Quiapo Church on Sunday after the midnight mass to be celebrated by Fr. Rufino Sescon Jr., rector of Quiapo Church.
At least 5 million devotees are expected to join the "Walk of Faith", which, according to the organizers, will be shorter as the procession covers only 20 areas. (PNA)