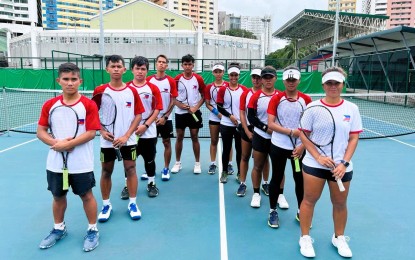 MANILA – The Korea Soft Tennis Association (KSTA) will send one of its professional women's teams to the Philippines this month for a technical training exchange program.
The Korea Daegu Bank team headed by coach Cho Kyoung Soo will arrive on Jan. 16, a day before the training begins at the Felicisimo Ampon Tennis Center inside the Rizal Memorial Sports Complez in Malate, Manila.
The exchange program was made possible with the help of International Soft Tennis Federation (ISTF) Director Jaekoo Yoon.
Escala, who served as assistant coach to multi-titled Jovy Mamawal from 2011 until her appointment as head coach in 2018, said the training camp started last year and the KSTA volunteered to help the Philippines in preparation for the Cambodia SEA Games slated from May 5 to 17 this year.
"Their level is high, they can beat our men's team. Since it's winter season in Korea now, they scheduled our training in January and February," she added.
The training camp in Sunyang City, South Korea was held from Sept. 21 to Oct. 6 after the Nonghyup Bank Korea Cup Incheon on Sept. 14-20.
"We're also waiting for the SEAG test event. If there's none, we will just continue training here in Manila and maybe, we will be given a chance to train in Korea by March," said 46-year old Escala, a double-bronze medalist at the 2008 Asian Soft Tennis Championships.
Aside from the national team, the Koreans will also train the juniors team and the national pool.
"We have new players who were selected during the tryouts last November. I hope they can join us. Since most of the classes now are face-to-face, we will request their schools to allow them to attend the training," said Escala, who won the team bronze medal at the 2011 SEAG in Palembang, Indonesia.
The team has begun its SEA Games preparation last year, joining the 6th Indonesia Soft Tennis Championships in December and bringing home one silver and three bronze medals.
"Our players only have four months left before the SEA Games so they have to practice hard and be ready for the big challenge ahead of them," said Escala, a varsity tennis player at the De La Salle University where she graduated with a Bachelor of Science in Management of Financial Institutions degree.
Excluded in Vietnam last year, soft tennis is back in the Cambodia SEA Games program with seven gold medals at stake.
In 2019, host Philippines captured three gold and one bronze medals. Thailand finished second with two silver and one bronze medals followed by Indonesia with one silver and one bronze medals. Cambodia was fourth with two bronze medals while Laos placed fifth with one bronze medal.
"The goal is to duplicate the three-gold performance during the 2019 SEA Games. The medalists are still in the team," Escala said, referring to Noelle Conchita Corazon "Bien" Zoleta-Mañalac (gold, women's singles and doubles), Nikki Camille "Bambi" Zoleta (gold, doubles), Joseph Arcilla (gold, men's team) and Princess Catindig (bronze, women's singles)," she said.
"I am optimistic that we will have a competitive team in Cambodia. Our players are focused on winning," she added.
Escala will have Michael Enriquez, Roel Licayan and Bing Paguyo as her assistant coaches. (PNA)