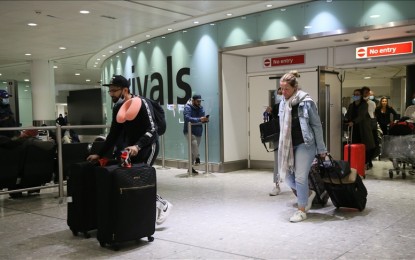 ANKARA -- China announced that as of Sunday, the country is opening its borders after three years of restrictions that were implemented due to the Covid-19 pandemic.
China's National Health Commission announced on Dec. 26 that it is downgrading the coronavirus from a Class A infectious disease to Class B to further ease the measures in the country.
Covid-19 has changed from a "novel coronavirus pneumonia" to a "novel coronavirus infection," according to a statement by the health commission.
Also, China will not impose a quarantine on those entering the country and Covid-19 patients starting from Sunday, in accordance with the Frontier Health and Quarantine Law of the People's Republic of China.
The world's most populous nation also dumped its strict "zero-Covid" policy last month, following unrest and unprecedented protests in parts of the country.
However, the country faced a rising number of Covid-19 cases in the past weeks.
Several countries, including the US, the UK, Italy, Spain, France, Morocco, Qatar, Canada, Greece, Malaysia, Finland and the Netherlands, announced the requirement of negative Covid-19 test result for those arriving from China.
Meanwhile, Germany on Saturday advised against non-essential travel to China, classifying the country as a "threatening virus variant area" as of Monday, due to the current Covid-19 wave in China, the Foreign Office said.
China on Friday said the Covid-19 situation in the country is under control and that many EU member states welcome Chinese travelers.
In response to EU member states' recommendations of restrictions on travelers from China, Foreign Ministry's spokesperson Mao Ning said the EU should listen to rational voices and view China's epidemic in an objective manner, according to the state-run Global Times.
Reacting to travel restrictions on Chinese citizens by several countries, Mao on Thursday said all countries' response measures to Covid-19 should be based on science and facts, and be proportionate.
"There should be no attempts to politicize the issue or adopt discriminatory practices to affect normal people-to-people exchange," Mao told reporters.
She added that Chinese experts also attended an online briefing of the World Health Organization members to provide a further update on the pandemic. (Anadolu)