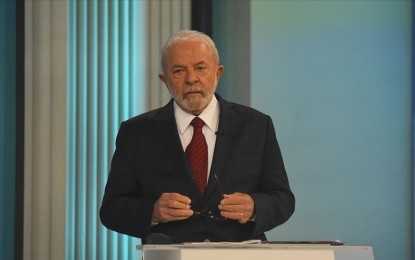 BUENOS AIRES – Brazil's President Luiz Inacio Lula da Silva decreed a federal intervention allowing the armed forces to contain hundreds of supporters of former President Jair Bolsonaro after they stormed the National Congress on Sunday.
Bolsonaro supporters managed to invade and ransack three branches of government in the capital Brasilia -- the Planalto Palace, or President's office, Congress and the Supreme Federal Court, according to Brazil news portal G1.
At a press conference, Lula strongly condemned the incident, pledging to hold those who had taken part responsible.
"All these people who did this will be found and will be punished. They will realize that democracy guarantees the right to freedom, free communication and free expression, but it also requires people to respect the institutions that were created to strengthen democracy," he said.
"These people, vandals, Nazis and fanatical fascists did what has never been done in the history of this country," he added.
On Twitter, Lula also vowed to find out who has been financially backing the far-right groups who participated in the attack and raids, insisting that "they will all pay with the force of law."
"This had never happened in this country, not even in the (19)60s, that a group would go and commit such acts in the House of Representatives," he said at the press conference.
According to the Metropoles news outlet, at around 2.40 p.m. (1740GMT) on Sunday, Bolsonaro supporters invaded the National Congress, managing to bypass barricades erected by security forces, and entered the Planalto Palacio.
A number of videos show Bolsonaro supporters shouting, climbing on the rooftop and surrounding the building, many dressed in Brazil football tops and carrying the green and yellow national flag.
They broke windows, chairs and tables and threatened a number of officials working there as the raid continued.
According to Metropoles, the last target of the extremist demonstrators was the Supreme Federal Court, with the judiciary building being invaded around 3.45 p.m.
According to G1, the coup movement, which has been ongoing for weeks in Brasilia, was joined on Sunday by droves of buses that arrived over the weekend, with 150 Bolsonaro supporters arrested by 6.45 p.m. local time as security personnel took back Congress, the Supreme Court and Planalto Palacio.
Bolsonaro lost to Lula in a tight race on Oct. 30. Lula garnered 50.9 percent of the vote compared to Bolsonaro's 49.1 percent, according to Brazil's Superior Electoral Court (TSE).
In the aftermath of Lula's win, Bolsonaro supporters demonstrated, many blocking highways across the country and pushing for the military to intervene.
Lula was sworn in as president of Brazil for a third term on Jan. 1, 2023. (Anadolu)