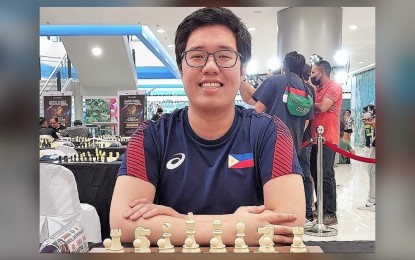 MANILA – International Master Jan "Jem" Emmanuel Garcia kicked off his campaign this year with a title victory at the Sir Herky Del Mundo Memorial Open rapid chess tournament held at the Open Kitchen Foodhall in Rockwell Business Center, Mandaluyong City last Jan. 3.
The 27-year-old Garcia, who serves as program head of the Ateneo de Manila University chess team, registered 6.5 points to claim the gold medal and PHP10,000 in cash in the event participated by the country's top leading players.
He defeated Woman National Master Antonella Berthe Racasa, Arena Grandmaster Joselito Asi, Jerry Areque, IM Ricardo de Guzman, IM Ronald Dableo and National Master Mark Jay Bacojo, and drew with Joseph Lawrence Rivera.
IM Richilieu Salcedo III, Dableo, Grandmaster Rogelio Antonio Jr., Bacojo and De Guzman were tied for second to sixth places with identical 6.0 points. IM Daniel Quizon was seventh followed by Rivera, FIDE Master Jeth Romy Morado and IM Barlo Nadera.
"I always try to give my best in every tournament. Even though there are Grandmasters in the tournament, as one of the top players of the country, I believe I can win any tournament as long as I play well," said Garcia in an interview on Monday.
Born in Quezon City, Garcia is the second among three children of Florand, a lawyer, and Elizabeth, an employee at the Supreme Court. His father taught him how to play chess at the age of four.
"My first international tournament was the Asean Age Group Chess Championships in Jakarta, Indonesia when I was 10 years old," shared Garcia, who finished grade school at San Beda College.
In 2007, he won a gold medal and was named Outstanding Rookie and Most Valuable Player while playing for the Ateneo high school team in the UAAP.
Garcia became a member of the national pool in 2010 and the following year, he earned the IM title at the Asian Zonal 3.3 Chess Championships where he scored six out of nine points for a fifth-place finish.
He has competed in the Olympiad (2018), Asian Championships (2011, 2013, 2017, 2018 and 2019), Asian Indoor and Martial Arts Games (2017) and SEA Games (2019 and 2022).
Garcia bagged the rapid team silver medal and the blitz team bronze medal with IM Paulo Bersamina at the AIMAG in Ashgabat, Turkmenistan. In the 2019 Manila SEA Games, he won the individual gold medal in online chess and in Vietnam, he took the blitz team bronze medal with IM Daniel Quizon.
"My dream is to become a Grandmaster," said Garcia, who admires Norwegian GM Magnus Carlsen and Russian GM Garry Kasparov.
"I also want to win the National Championships," added Garcia, who was able to balance sports and studies after earning a Bachelor of Science in Management Information Systems with specialization in Enterprise Systems degree at Ateneo in 2016. (PNA)