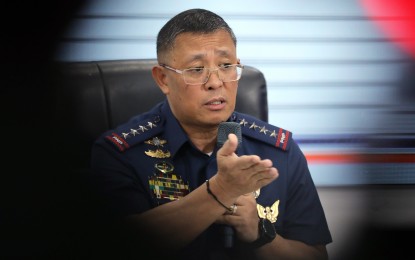 MANILA – The Philippine National Police (PNP) on Monday reported that the country's crime rate has dropped by 6 percent from July to December last year -- the first six months of President Ferdinand R. Marcos Jr.'s term.
In a press briefing in Camp Crame, PNP chief Gen. Rodolfo Azurin Jr. said 105,568 crime incidents were recorded in the second half of 2022 -- 6.37 percent lower than the 112,746 incidents recorded during the same period in 2021.
Mindanao posted the highest decline in crime incidents at 12.29 percent, followed by Luzon at 7.35 percent.
However, the Visayas logged a 5.65 percent increase in crime incidents.
"For both six-month periods, theft, rape, and physical injury registered as top three most prevalent crimes," Azurin said.
He also said crime solution efficiency remains at a high of 81.78 percent in 2022, increasing slightly from the 80.51 percent record in 2021.
For this year, Azurin said the PNP will focus on fighting cybercrimes that affect hundreds of Filipinos not only in the Philippines but also in other parts of the world.
He said cybercrime is one of the greatest threats to millions of users of cyberspace whose personal data are available online.
"Our outlook and way forward in 2023 will largely involve further enhancement of anti-criminality capacity thru SMART Policing or Secured, Mobile, Artificial Intelligence-Driven, Realtime Technology, a strategic approach that incorporates more 'science' into police operations by leveraging innovative applications of analysis, technology, and evidence-based practices," Azurin said. (PNA)