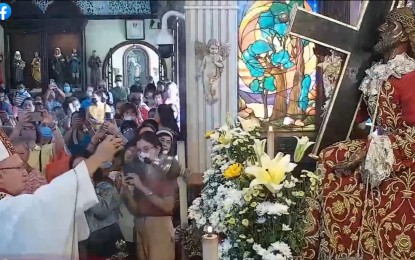 CEBU CITY – In solidarity with the devotees in Manila, hundreds of Cebuanos on Monday observed the feast of the Black Nazarene in a pontifical mass celebrated by Archbishop Jose Palma at a shrine in Talisay City.
Fr. Narciso Amoro of the Divine Word Missionaries (SVD) said although the Minor Basilica of the Black Nazarene in Quiapo, Manila canceled the Traslacion this year due to Covid-19, the devotees here held a procession of the life-sized image of dark-skinned Jesus carrying the cross around the Cebu South Coastal Road.
Amoro, who oversees the Shrine of the Black Nazarene, also celebrated a vespers mass on Sunday.
Palma said the fiesta of the Black Nazarene in Manila as well as in Cebu coincides with the big festivity in the province in honor of the Holy Child Jesus, the Sr. Sto. Niño de Cebu.
"Today is the feast of Jesus Nazarene. There is an observation that we have two big gatherings – the festival of Sr. Sto. Niño in Cebu on the third Sunday of January and the feast of Jesus Nazareno in Quiapo. We know that we are happy to gather together to glorify God, Jesus the Nazarene. Because the climax of the festival after the meditation on the Holy Child Jesus, entered Jesus Nazarene carrying the cross," Palma said in his homily.
He reminded the devotees of both the Sto. Niño and the Black Nazarene the beauty of journeying together in consonance with the theme of the "Synod of Synodality" by the Roman Catholic Church, advocating unity among the clergy and the faithful.
The 72-year-old Cebu prelate encouraged the devotees of the Black Nazarene who attended the mass to continue invoking God's mercy amid the trials.
Major religious activities related to the Fiesta Señor were canceled in the past two years due to the pandemic as well as Typhoon Odette which destroyed thousands of structures in Cebu, including religious facilities.
"Truth to this, in the past years when Covid-19 and Typhoon Odette struck us, God is there. He gave us the strength to go on with our journey until we reach the point that in the middle of our fears, we are reminded of our faith in Jesus the Nazarene that gives us hope in the midst of our tribulations," Palma said.
He also reminded the devotees that the celebration of 500 Years of Christianity which was concluded in April 2021 united the Filipinos to celebrate God's grace in making Cebu the "cradle of Asia's civilization".
The Shrine of the Black Nazarene in Barangay Mohon, Talisay City is situated in a convent run by the Society of the Angel of Peace, a local congregation of religious men and women founded in Cebu by the late Msgr. Cristobal Garcia in 1992. (PNA)