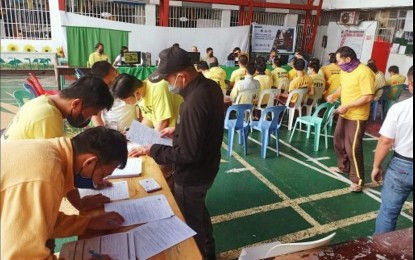 BAGUIO CITY – The Commission on Elections (Comelec)-Baguio on Monday held off-site voter registration activities at the Baguio City National High School (BCNHS) and Baguio City Jail (BCJ) to ramp up registration of new voters for the upcoming barangay and Sangguniang Kabataan (SK) elections.
Lawyer John Paul Martin, election officer of Baguio, said the sectoral off-site registration aims to ensure that "all those who want to vote can be registered."
"Some individuals do not cast their votes because they are not registered because they have no time to visit the Comelec office due to school or work schedules that coincide with the registration hours," he said.
"So, we bring the registration to where the voters are for the public's convenience," Martin said.
As of 3 p.m. of Monday, there were more than 300 BCNHS students who have registered, with about 700 expected until the closing of office hours.
The Comelec official said they offered to the principal of the school to hold a registration, with the observation that despite their proximity to the school, few enter their office to be registered.
BCNHS is the biggest public high school in the city and its location is only about 500 meters from the Comelec office and the SM Mall where there is a mall-site registration.
He said that they hope to also extend registration to the other schools to also capture those in grades 11 and 12 for eligibility to vote or run for an elective position.
Meanwhile, at the city jail, 90 persons deprived of liberty (PDLs), both male and female, have already registered by noon.
Martin said off-site registration activities for the whole the week is devoted to the vulnerable sectors -- PDL, senior citizens, persons with disabilities (PWDs) and students.
He said PWDs will be prioritized at the mall site registration in SM-Baguio on Wednesday, while senior citizens will be the priority for Thursday, Friday and Saturday.
Martin said they expect to register at least 5,000 persons from the off-site registration activities. (PNA)