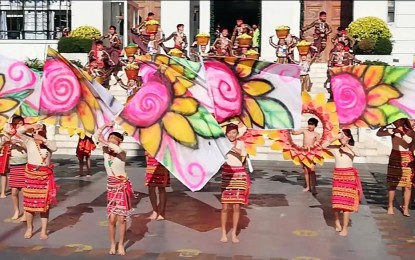 BAGUIO CITY – The Baguio Flower Festival (BFF) Executive Committee (Execom) on Monday said it is expecting more participants in the grand street dancing and float parade for the culmination of the more than a month-long Baguio Flower Festival, or Panagbenga, that is set to formally start on Feb. 1.
In a phone interview, Andrew Pinero, spokesperson of the BFF Execom and in-charge of the media committee, said three schools have already signified intention to join the street dancing parade on Feb. 25. "And there are eight who have registered for the open category," he said. He added that they are still expecting more after they sent invitations to past festival winners in different provinces who are just making arrangements for their accommodation and transportation.
"Eleven is already a good number because we usually had 12 pre-pandemic. And among the groups still expressing interest are from the different provinces of the Cordillera," Pinero said.
Also joining are the marching bands of Saint Louis University (SLU), Philippine Military Academy (PMA), Police Regional Office Cordillera (PROCor) and Baguio City National High School (BCNHS), while more are expected as there are still about 20 days to go before the opening, and less than 50 days before the major parades.
Pinero added that they also expect the float parade to be "extraordinary" as even newcomers have expressed interest to have a flower float entry.
"They probably see their participation as an initiative to contribute to the post-pandemic recovery efforts," he noted.
The Philippine Mine Safety and Environment Association (PMSEA), an organization of mining companies in the country, has confirmed its participation, along with the usual companies that participate in the float parade.
The float parade, which is also a competition, requires that about 70 percent of the float be made of fresh and natural flowers or cut flowers.
The usual events - landscaping competitions, flower arrangement competitions, PMA alumni homecoming, fluvial parade, cultural dance competition, market encounter, Session Road in Bloom and let a thousand flowers bloom - are scheduled on different dates for the whole month of February until the closing on March 5.
"We are a go and we continue to send an invitation for the others to join the festival which was not staged for two years. But we are not introducing new activities because after two years without it, experimenting at this time will not be beneficial for all," Pinero said. (PNA)