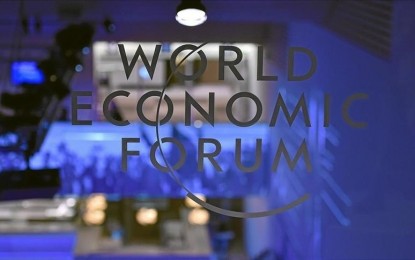 LONDON – The right word to describe the current period of multiple convergent crises surrounding the global economy is a "transition" and action by central banks in tandem with the resilience of labor markets and the re-balancing of supply chains will be among the factors deciding what kind of economic order this transition will result in, World Economic Forum (WEF) Managing Director Mirek Dusek told Anadolu Agency in an interview.
Dusek's remarks came ahead of the WEF's Annual Meeting 2023 which will take place from Jan. 16-20 in Davos, Switzerland with the theme "Cooperation in a Fragmented World."
"The WEF's Annual Meeting 2023 in Davos will convene against the backdrop of a challenging economic outlook, and the program will reflect that reality in focusing on the dual imperatives of making the right decisions for economies, companies and communities to get through these complex times while simultaneously maintaining the ability to make major investments in the future," he said.
The global economy has been under pressure due to multiple crises involving food, energy supply security, the cost of living, high inflation and the climate.
Supply shortages in energy markets have been reaching record levels for more than a year globally, while Russia's war on Ukraine has deepened the problems in the supply and demand balance, leading to further skyrocketing prices in energy markets, particularly for natural gas.
Dutch Title Transfer Facility (TTF) natural gas prices had skyrocketed to €342 ($364) per megawatt-hour as of Aug. 26, 2022, a dramatic rise from the €30/MWh level a year earlier.
After sharp increases during the last year, prices had fallen to €69/MWh as of Jan. 6, thanks to a milder winter and high storage levels in Europe.
The price increases in food and energy markets are the main drivers of the decades-high inflation around the world.
According to Dusek, the multiple convergent crises with interconnected causes are affecting millions worldwide, especially those living in the most vulnerable regions.
"Just as the causes of these crises are interconnected, so too are their solutions, and we must converge on identifying and acting on measures that will not only mitigate the risk of such crises moving forward, but even more important, enable us to articulate and implement a new growth, jobs and security agenda for the future," he said.
Focusing on sustainable transition to address crises
Dusek said accelerating the transition to clean energy, mainstreaming breakthrough technological innovations and introducing effective diplomatic mechanisms for a more competitive world are among the action areas that can help the world emerge from this period of uncertainty with increased resilience.
He described the current situation as a "transition."
"Action by central banks in tandem with the resilience of labor markets and the nature of supply chains' reshuffling will be among the factors deciding what kind of economic order this transition will result in," Dusek said, while calling for effective government policies to recognize the current conditions as an opportunity to implement "much-needed policy reform."
"First and foremost, policy should support the transition to more sustainable energy sources with the aim of decoupling economic growth from energy consumption as well as reducing carbon emissions to address climate change," he said.
"In this regard, the recent deep concern around energy insecurity stemming from economic and geopolitical shocks should provide momentum to accelerate movement towards a more sustainable energy model."
The crises are global in their impact in an unprecedented way, and policies should also be pursued in as cooperative a manner as possible among governments worldwide, Dusek said.
"We have already seen central banks worldwide working in tandem to combat inflation, and wider government policy to address systemic global issues should also maximize opportunities for coordinated action," he added.
Central banks have adopted a policy of hiking rates in a bid to tame surging inflation.
Dusek said that amid these crises, the WEF's mission of fostering public-private cooperation has never been more important or urgent, both to navigate the present crises and to drive tangible, system-positive change moving forward.
"Bringing together a wide range of stakeholders is key to forging understanding and alignment, scaling innovation and finding proactive solutions to our common issues through tangible action," he added. (Anadolu)