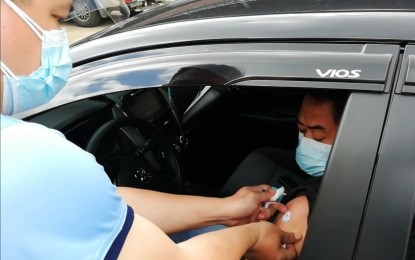 BAGUIO CITY – The city government continues to boost its coronavirus disease 2019 (Covid-19) vaccination drive, especially with the surge in cases being experienced in China, the public information office said Monday.
"Regular ang vaccination schedule natin sa SM para mapadali sa mga gustong magpabakuna at ma-encourage and mga gustong pa-bakuna. Meron din mga schedule na ginagawa sa mga district health centers (We have regular vaccination schedules at SM mall for the convenience of those who wants to be vaccinated, and encouraged those who want to get the jab. There are also vaccination schedules at the district health centers)," said PIO-Baguio chief, Aileen Refuerzo, in a phone interview.
Data released by the city thru its official Facebook page shows that all its district health centers have vaccination schedules from Monday to Friday between 8:00 a.m. to 4:00 p.m.
This is aside from the city-managed large vaccination site at the SM mall that operates daily from 10:00 a.m. to 4:00 p.m.
These areas will cater to children five years old and above for the first and second dose, and a first booster shot for the adults 18 years old and above. This is aside from the second booster vaccine of the A-1 and A3 categories.
Meanwhile, the city large vaccination sites cater not only to residents, but also to tourists and other non-residents.
As early as October 2022, the city government reported a 109 percent vaccination accomplishment for the regular doses of the 270,000 eligible adult population.
"The vaccination drive is not stopping to convince the public especially now that there is a surge in cases in China," Refuerzo said.
Several international media outlets have recently reported that China is experiencing a surge as a result of the Covid-19 XBB variant.
Refuerzo said they are encouraging students coming from the lowlands who are returning to the city, especially those who have not yet been vaccinated, to get their Covid jabs for their own protection.
"Mas maganda lalo at andito sila sa Baguio at wala ang pamilya nila (It would be better for them because they are here in Baguio without their families)," she said.
Mayor Benjamin Magalong earlier expressed confidence that a Covid surge will not happen in Baguio as many residents have already been vaccinated.
"Baguio residents need not fear or panic on hearing about the spread through travelers of a new XBB variant causing a surge in China. Baguio residents are vaccinated and they follow health protocols, even using masks when indoors," he said.
Nevertheless, he urged those who have yet to receive the vaccine protection to get it from the many vaccination centers that are catering to residents and non-residents alike. (PNA)