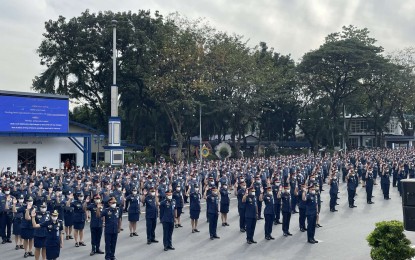 MANILA – A total of 43,823 police officers across the country's 17 regions have been promoted to higher ranks.
Philippine National Police (PNP) chief Gen. Rodolfo Azurin Jr. conferred the promotion during the simultaneous oathtaking, donning and pinning of ranks of second-level personnel on Tuesday.
These personnel were promoted from the rank of Patrolman (Pat.) up to Lieutenant Colonel (Lt. Col) held at Camp Crame and various units through a virtual ceremony.
The number included 1,172 police personnel stationed at the PNP National Headquarters.
Elsewhere in the regions, similar donning of rank and oath-taking ceremonies were held to officially confirm the promotion.
"I think this promotion would really mean a lot for our personnel. So this is what we are asking for from them, the cooperation that is at their level, they should start cleansing their ranks, they should start cleansing themselves specifically regarding their involvement in illegal drug activities," Azurin told reporters on the sidelines of the activity at Camp Crame.
He said those involved in illegal drugs have no place in the police force.
"We are the enforcers of the law. We are the ones who go after illegal drug peddlers. We should not be tainted," he added.
Azurin also encouraged all promotees to continue to learn and actively be involved in promoting PNP's best practices while building strong relationships with peers and the community.
He also reminded them that their duty is not just to enforce the law, but also to build trust and good relationships with the community. Further, they are expected to treat every member of the public with dignity and respect and work to bridge the gaps that may exist.
Of the police officers who took the oath, 406 were promoted to the rank of Major; 3,568 to Captain; 273 to Lieutenant; 1,707 to Executive Master Sergeant; 3, 507 to Chief Master Sergeant; 3,033 to Senior Master Sergeant; 5,046 to Master Sergeant; 11,711 to Staff Sergeant and 14,562 to Corporal.
The regular promotion program ensures a streamlined rank structure of the 227,00-strong police organization, based on the staffing pattern approved by the National Police Commission.
Avoid illegal activities, NCR cops told
National Capital Region Police Office (NCRPO) chief Maj. Gen. Jonnel Estomo challenged over newly-promoted 4,000 cops to remain upright refrain from involvement in illegal activities, especially the illegal drug trade.
""In every promotion comes maturity. Iisa lang ang hamon ko sa inyo, wag kayong sasama sa mga iligal lalo na sa iligal na droga dahil unang una , sayang ang inyong promotion at kawawa ang inyong pamilya, (I have only one challenge for you, don't join the rogues, especially the illegal drugs. Because first of all, your promotion will be wasted and your family will be miserable) Estomo said during the donning, pinning and oathtaking rites of newly promoted police officers at the NCRPO Grandstand, Camp Bagong Diwa, Bicutan, Taguig City.
He further conveyed his expectations from the newly promoted police officers to be of help in implementing S.A.F.E NCRPO and achieve more success and accomplishments against criminality especially against illegal drugs.
"Always remember to live up the goal the S.A.F.E NCRPO. We must be seen by the people, all our actions must be appreciated, and all our programs and actions must be felt by our people through our extraordinary actions," Estomo stressed.
The promotion was a result of the merit system given to the PNP uniformed personnel to recognize their selfless years to service. It was also simultaneously carried out with the five police districts of NCRPO.
The five districts covered by the NCRPO are the Manila Police District (MPD), Quezon City Police District (QCPD), Northern Police District (NPD), Southern Police District (SPD), and Eastern Police District (EPD). (PNA)