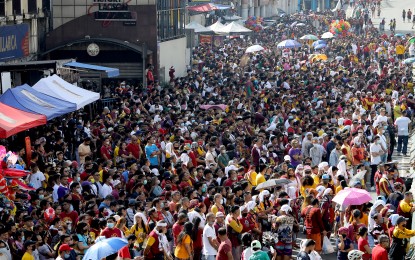 MANILA – Over 1.2 million devotees participated in the different activities to celebrate the Feast of the Black Nazarene in Manila.
Based on the data released by Quiapo Church Command Center, a total of 1,268,435 devotees joined the celebrations from Jan. 6 to 10.
"This is far from the 5 million total projected during the pre-pandemic Traslacion, but double the number during the pandemic Traslacion," Fr. Earl Valdez, Quiapo Church spokesperson, said in a statement Tuesday.
A total of 925,782 devotees went to the Quiapo Church while those who were at the Quirino Grandstand were 254,653 devotees.
Another 88,000 faithful joined the "Walk of Faith" procession where they walked from the Quirino Grandstand to the Quiapo Church on Jan. 8
Data also showed that most devotees came on feast day itself on Monday at 709,945 while another 409,785 people showed up the day before.
On Jan. 6, the first Friday of the year, some 95,160 devotees participated while devotees on Jan. 7 and 10 were 49,175 and 4,370, respectively.
The 2023 feast marked the return of some of the physical activities after being suspended due to the coronavirus disease 2019 (Covid-19) pandemic.
For the third straight year, organizers suspended the traditional "Traslacion" or the procession of the image of the Black Nazarene from the Quirino Grandstand to Quiapo Church in Quezon Boulevard in compliance with pandemic protocols.
The Manila Public Information Office (MPIO) reported that 99 trucks collected garbage around Quiapo Church and Quirino Grandstand.
Princess Abante, MPIO chief, said loads of trash were gathered from Jan. 6 to 10, based on the data from the Department of Public Services (DPS).
"As per DPS, for this year the total volume is 265 metric tons (MT)," said Abante in a statement. "We collected more compared to the previous [two] years due to the pandemic."
In 2021, Manila collected 196 MT of garbage. Last year, 34 trucks gathered 89 MT.
In 2020, when the "Pahalik" (kissing of the statue) and "Traslacion" were held two months before the pandemic, there were 394 MT of garbage collected. (PNA)