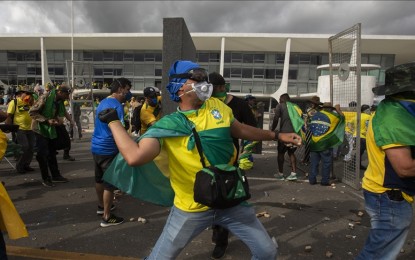 ANKARA – The Brazilian Football Confederation (CBF) on Monday criticized the use of Brazilian National Team jersey in political demonstrations on Sunday.
The CBF published a statement from official website, which emphasizes that the CBF is a non-partisan and democratic entity and encourages the shirt to be used to unite.
The statement added that the national team and its jersey are symbols of the joy of Brazilian people and should not be used in anti-democratic acts and vandalism.
After Luiz Inacio Lula da Silva's election victory last October, former president Jair Bolsonaro's supporters stormed key government buildings on Sunday and called for the military to intervene against the leftist leader.
Supporters of Brazil's former president were mostly covered in Brazil National Team jerseys. (Anadolu)