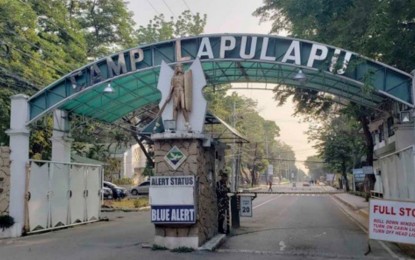 CEBU CITY – The Visayas Command (Viscom) on Tuesday said the Communist Party of the Philippines-New People's Army (CPP-NPA) in the Visayas has suffered a series of setbacks at the start of this year owing to the neutralization of five members and confiscation of 13 firearms in 10-day military operations.
Maj. Gen. Benedict Arevalo, Viscom acting commander, urged the few remaining fighters who are still in the mountains to lay down their arms and return to the fold of the law.
"These series of debacles suffered by the CPP-NPA manifest your soldier's utmost dedication and steadfast commitment to defeat the CPP-NPA and swiftly serve justice to those whom they terrorized," Arevalo said in a statement.
He said the "long arms of justice will eventually catch up with you. We will never stop, and we will never falter in our commitment to win the peace for the people in the Visayas. Lay down your arms now and return to the folds of the law while you still can."
According to Viscom, the military and law enforcement operations from Jan. 1-10 resulted in the death of two CPP-NPA members.
On Tuesday, another fighter died in a five-minute shootout between members of the Philippine Army's 62nd Infantry Battalion and NPA terrorists under Central Negros 1 (CN1) of the Komiteng Rehiyon Negros, Cebu, Bohol, and Siquijor (KR NCBS) in Sitio Banderahan, Barangay Trinidad in Guihulngan City, Negros Oriental province.
A .45-caliber pistol was recovered in the possession of the neutralized rebel.
On Monday, another NPA member died in an encounter with the members of the 94th Infantry Battalion and 2nd Negros Occidental Provincial Mobile Force Company (NOCPMFC) in Sitio Maliko-liko, Barangay Carabalan, Himamaylan City in Negros Occidental.
He was a member of Central Negros 2 (CN2) of the KR NCBS.
Government troops recovered several war materiel during the said encounter including an M14, an M79 grenade launcher and two M16 rifles, among others, along with an NPA flag, personal belongings, and several subversive documents.
Meanwhile, three other NPA members were neutralized through a joint law enforcement operation launched by the 79th Infantry Battalion, Special Action Battalion-6, and Regional Mobile Force Battalion-6 at Barangay Cambayobo, Calatrava in Negros Occidental on Jan. 6.
Viscom said they are remnants of the dismantled Northern Negros Front (NNF) under Komiteng Rehiyon Negros, Cebu, Bohol, and Siquijor (KR NCBS).
The government operatives recovered in their possession two .45-caliber pistols, a 9mm pistol, magazines with live ammunition, four rifle grenades, cash, and personal belongings.
Viscom identified one of the rebels neutralized in Calatrava as Felix Susas Jr., also known by his aliases as Rigor, Kenneth, Glemore and Dapin.
Susas, who has pending arrest warrants for murder, homicide, illegal possession of firearms and violation of the Human Security Act of 2007, was responsible for the alleged murder of Lalong barangay chairman Benjamen Javoc on Aug. 26 last year, and that of Renato Estrebillo in the same month, in Barangay Marcelo, both in Calatrava town.
On Jan. 5, soldiers from the 14th Infantry Battalion recovered an arms cache of the NPA in Barangay Maligaya, Mahapalag, Leyte, after they received information provided by a former rebel.
The arms cache contained an AK47 assault rifle, an M16 rifle, M1 Garand rifle, an M79 grenade launcher and assorted magazines. (PNA)