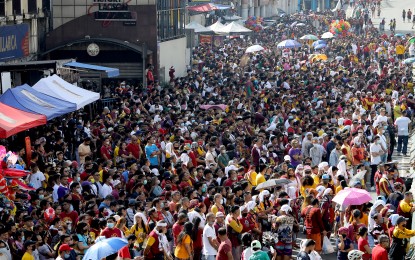 MANILA – The Department of Health (DOH) on Tuesday reminded the attendees to the celebration of the Feast of the Black Nazarene to monitor themselves for any symptoms of the coronavirus disease 2019 (Covid-19).
"Kung saka-sakali lamang po makaramdam ng parang tinatrangkaso, sinisipon, inuubo, nilalagnat, mag-isolate na agad at tumawag sa ating mga (If you feel flu-like symptoms - colds, coughs, fever - isolate immediately and contact our) local governments for proper management," said DOH officer-in-charge Maria Rosario Vergeire in a media briefing.
Also, Vergeire urged them to wear face masks for the next five days to avoid possible transmission of illnesses.
In its latest report, the DOH has attended to a total of 1,046 health emergencies related to three-day celebration of the Feast of the Black Nazarene which gathered almost two million people, according to data from the Quiapo Church in Manila.
Of the tally, about 788 are cardio-related cases like hypertension, hypotension, chest pain and blood pressure monitoring.
Eighty-five are trauma-related cases like wounds and lacerations; 148 are neurological-related like headaches and dizziness; 13 are respiratory-related like difficulty in breathing and asthma; seven are gastro-related like abdominal pain and loose bowel movement; and five cases were logged for other concerns.
When asked whether the event would cause an increase in Covid-19 cases, Vergeire said the DOH must wait at least two weeks -- the incubation period of the virus -- before it could see its effect on the tally of infections.
"We have had several events like this before like we had the May elections, we also had the political campaigns, rallies, kung saan saan ang dami dami talagang tao (in different places and there were a lot of people) but we were able to maintain that number of cases at that minimum," she added.
Covid-19 vaccination and wearing of face masks have kept the number of cases low despite public gatherings, she noted. (PNA)