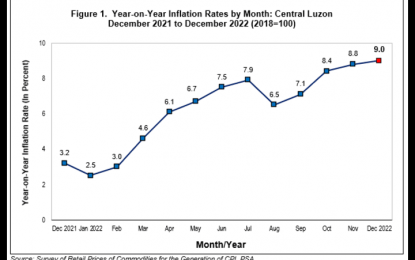 CITY OF SAN FERNANDO, Pampanga – The inflation rate in Central Luzon continued to accelerate to 9.0 percent in December 2022 from 8.8 November 2022, based on the latest report of the Philippine Statistics Authority-Regional Statistical Services Office (PSA-RSSO) III.
This is the highest inflation recorded in the region since December 2008.
The region's average inflation from January to December 2022 was recorded at 6.5 percent.
Central Luzon ranked third among regions, with Western Visayas registering the highest inflation at 10.5 percent, followed by Davao at 9.3 percent.
Meanwhile, the Bangsamoro Autonomous Region in Muslim Mindanao (BARMM) still recorded the lowest inflation at 6.3 percent.
The headline inflation in the Philippines also went up to 8.1 percent in December from 8.0 percent in November. This is also the highest recorded inflation since November 2008.
In her report, PSA-RSSO III Regional Director Arlene Divino said the uptrend in inflation for December was primarily brought about by a higher annual increment in the index of food and non-alcoholic beverages at 10.8 percent from 10.2 percent in November.
"The food group remains the major driver of higher inflation, pushed by the price hike in vegetables, rice and fruits," Divino said in her report.
This was followed by the index of restaurants and accommodation services at 5.1 percent from 3.9 percent in November and the index of personal care, miscellaneous goods and services at 5.8 percent from 4.8 percent in November.
Higher annual increments were also noted in the following indices – alcoholic beverages and tobacco at 15.2 percent; recreation, sports and culture at 6.0 percent; clothing and footwear at 5.5 percent; furnishings, household equipment and routine household maintenance at 4.6 percent and health at 3.6 percent.
On the other hand, a lower annual increment was recorded in the index of housing, water, electricity, gas and other fuels at 8.4 percent from 9.0 percent in November and transport at 15.0 percent in December from 15.3 percent in November.
Meanwhile, the same rate of increase as that of the previous month was observed in the indices of education services at 1.7 percent; information and communication at 0.5 percent.
Jesito Ponio Jr., the supervising economic development specialist of the National Economic and Development Authority (NEDA), said the recovery cluster agencies in the region have been implementing various measures to curb inflation.
"The NEDA, through the help of other government agencies, is thoroughly observing the increase in prices of major goods in the region," he said. (PNA)