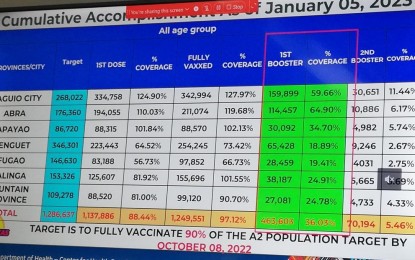 BAGUIO CITY – The social mobilization programs of the Department of Health (DOH), supplemented by those of the local government units (LGU), have contributed to the Cordillera Administrative Region's Covid-19 vaccination accomplishments.
In a press briefing, Geeny Austria, Nurse IV at the DOH-CAR, noted that "the DOH has continuing regional programs and activities to encourage the public to complete their vaccination for their protection."
These include the "Bakunahang Bayan," "Oplan level 1" and "Bakunahang Bayan 2" which made the vaccination service accessible.
Meanwhile, continuing anti-Covid programs of local government units, especially Baguio City and the province of Abra, have complemented DOH efforts in boosting the percentage of vaccinated individuals in the region, she said.
Statistics show that as of Jan. 5, 2022, the region's vaccination coverage for the first dose was at 88.44 percent; 97.12 percent for the fully vaccinated; while the first booster dose is 36.03 percent, and the second booster with a coverage of 5.46 percent.
The vaccination coverage for the pediatric population aged 12 to 17 years old is 29.9 percent and 54.97 percent for children 5 to 11 years old.
Austria said Baguio City and Abra province logged the most vaccination coverage.
She said Abra surpassed Baguio's accomplishment for the first booster dose, recording 64.90 percent while Baguio has 59.66 percent; 124.60 percent for Abra and 62.54 percent for Baguio for the full dose of children 5 to 11 years old.
"Abra surpassed the record of Baguio in December with different activities to encourage vaccination," she said.
She said activities, which included monetary incentives initiated by the Abra provincial government, have encouraged the public to receive the vaccine.
Abra's focus on highly-populated areas before proceeding to the communities with fewer residents has also contributed to the overall success of the vaccination programs, she said.
"The residents' appreciation of the self-protection provided by vaccination was inculcated in the continuing anti-Covid-19 programs of the local government of Abra," she said. (PNA)