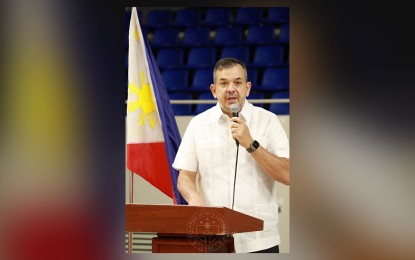 MANILA – Philippine Sports Commission (PSC) chairman Richard Bachmann's first order of mission for the PSC manpower: "No delays on the financial support that PSC provides the athletes."
Bachmann, on his very first flag raising ceremony as the sports agency's 12th chairman, made clear his intent to be of service to the athletes.
"Yun ang pinaka urgent na bagay para matulungan natin sila (It's the most urgent thing so that we can help them). If there is any delay of allowances of any athlete, paki delay din yung akin. My salary also. Give me the names of those athletes, give me the names of the NSAs (national sports associations), ako na yung maghahabol (I will fix it). Because, when I say that there is no delay in allowances, I'm going to make it happen," Bachmann said.
He also laid down his plans to bring back free meals for the members of the Philippine team.
He encouraged the PSC workforce to come to him if they have any suggestions or thoughts they want to share relative to the service they carry-out for their clients.
"I work best when I am on the ground - talking and listening to people I am supposed to serve," Bachmann said. "I would rather go to the athlete, and I also encourage our Commissioners to do the same."
Bachmann, who was joined by Commissioners Edward Hayco, Olivia "Bong'' Coo and Walter Torres, plans to take up a four-point priority plan with his commissioners as they hold a board meeting on Wednesday.
Aside from supporting the athletes, Bachmann also assured the PSC family that they are part of his priority as he addressed them Tuesday saying, "kayo rin ay mga MVPs (you are also most valuable players), because of the work you do to support our athletes."
The PSC employees also greeted Bachmann, who will be celebrating his birthday on Jan. 11.
"I want to assure everyone that I am here to be of service. Period. No personal agenda. I am here to serve our national athletes, the NSAs and the PSC organization," he said. (PNA)