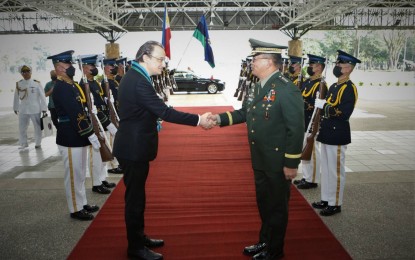 MANILA – The Armed Forces of the Philippines (AFP) is keen on expanding its military ties with Türkiye.
Newly appointed AFP chief Gen. Andres Centino and Turkish Ambassador to Manila Niyazi Eyren Akyol discussed this matter in a courtesy call made by the envoy at the AFP headquarters in Camp Aguinaldo, Quezon City on Tuesday.
Centino noted that because the existing memorandum of understanding with Türkiye only covers defense industry cooperation, the ongoing talks should proceed to expand the relations of both countries "by forging a broad military cooperation framework to explore other areas which are not covered under the existing defense agreement."
"In their meeting, the CSAFP (Chief of Staff of the AFP) expressed his gratitude for the significant contribution of the government of Turkey to the AFP modernization with the acquisition of the Philippine Air Force Attack Helicopter (AHAP T129) and Philippine Army M113 APC Fire Power Upgrade," AFP public affairs office chief Col. Jorry Baclor said in a statement.
Akyol, meanwhile, extended Ankara's commitment to continually assist the AFP in its modernization program as he touted his country's competence in the defense industry.
Indian envoy meets with Navy chief
Also on Tuesday, Indian Ambassador to the Philippines Shambhu Kumaran visited the Philippine Navy (PN) headquarters in Manila and paid a courtesy call on PN flag officer in command Rear Adm. Toribio Adaci Jr.
Adaci welcomed the visiting ambassador and had meaningful discussions on expanding the two countries' friendly relationship, and the conduct of Navy-to-Navy bilateral exercises, Navy spokesperson Commander Benjo Negranza said in a statement.
"Emphasizing the importance of working together toward achieving shared goals and mutual interests, Rear Admiral Adaci assured Ambassador Kumaran that the PN 'will come to support you, learn from you, engage you and pursue greater and bigger relationships,'" the Navy added.
Kumaran said both countries' friendly relations are vital in ensuring a safe, free and open Indo-Pacific region.
He also conveyed India's greetings and gratitude to the PN for this accommodation. (PNA)