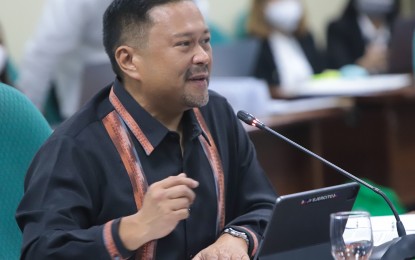 MANILA – Senator Joseph Victor Ejercito on Wednesday reiterated his opposition to the proposal to privatize the Ninoy Aquino International Airport (NAIA), the country's premiere airport saying its service is vital to national security and that it should be under the control of the government.
"I think what opened during the fiasco should be an eye opener for us. But when we talk about utilities concerning national security, I'm still thinking that it should be under government control," he said in his statement.
Ejercito warned that the NAIA will suffer the same fate as that of the National Grid Corporation of the Philippines (NGCP), a power transmission operator that was privatized in 2009, of which 40 percent of its stakes are now owned by the State Grid Corporation of China.
"We know for a fact that we have a dispute with China. But with what happened at the airport, with one instance, it can paralyze the whole airspace system. Air traffic froze for several hours. So, with one flick, we can be paralyzed without electricity," said Ejercito, the Senate Public Services Committee vice chairperson.
Ejercito said it is important to know what vessel or aircraft is entering the country's airspace, "especially that we have a territorial dispute with China", insisting that while he is open to proposals seeking to place the NAIA under a public-private partnership, maintaining and enforcing government oversight should be given priority.
A sudden glitch with the system downed more than 3,000 inbound and outbound flights throughout the country and affected around 65,000 international and domestic passengers on New Year's Day.
Three days after the incident, Ejericto filed Senate Resolution No. 400, directing the Senate Committee on Public Services to conduct an investigation on the said fiasco and produce recommendations to strengthen the country's aviation industry.
The said panel is set to hold its first probe on the incident on Jan. 12. (PNA)