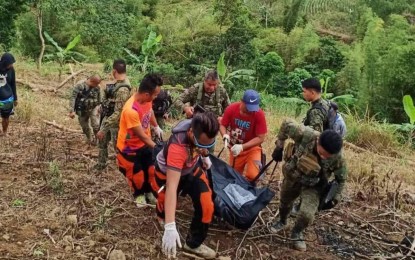 DUMAGUETE CITY – The Communist Party of the Philippines-New People's Army (CPP-NPA) rebel who was killed in an encounter with government troops in Guihulngan City, Negros Oriental was identified as a guerrilla front leader, Army and police sources said Wednesday.
Orlando Fat, alias Banban, was the lone casualty during a five-minute firefight between his group of five NPA rebels and soldiers of the Philippine Army's 62nd Infantry Battalion (62IB) early Tuesday in Sitio Banderahan, Barangay Trinidad, Guihulngan City.
Fat, who hails from the sub-village of Banderahan, is the political instructor of Section Guerrilla Unit 3 of the NPA's Central Negros Front 1, Komiteng Rehiyon-Negros, Cebu, Bohol, and Siquijor (KR-NCBS), that operates in the tri-boundaries of Guihulngan City, Canlaon City, both of Negros Oriental and Moises Padilla, Negros Occidental, the 62IB said.
Lt. Col. Romeo Cubo, Guihulngan City police chief, told the Philippine News Agency that they have informed the barangay captain of Trinidad to locate Fat's next of kin so they can claim his body.
"After the retrieval operations yesterday afternoon, the body of Orlando Fat was brought to the funeral parlor where he will lie in wake for three days. We hope that the family will claim the body, otherwise, he will have to be buried based on a local policy here," Cubo said in mixed English and Cebuano.
Government troops also recovered from the encounter site one .45-caliber pistol with two magazines and five live rounds of ammunition; one 40mm grenade launcher; three empty steel magazines (short) for M16 Rifle; one empty plastic magazine (short) for M16 Rifle; one magazine pouch and one holster for .45-caliber pistol; personal belongings; and "subversive documents".
Lt. Col. William Pesase, 62IB commanding officer, in an interview said the death of Fat is a "huge blow to the NPA considering that he is a political figure".
Pesase said they will continue their relentless anti-insurgency operations while also conducting sustainment activities as they now have the trust and support of the people.
"The encounters are a result of the local populace's cooperation with authorities, providing information to us on the presence of armed men. The people are already tired of the continuous extortion and harassment activities of the NPA and they want peace in their communities," he said in mixed English and Filipino.
This is the second encounter between government troops and NPA guerrillas on Negros Island this year.
The first one was on Jan. 9 in Barangay Carabalan, Himamaylan City, Negros Occidental, where 94th Infantry Battalion soldiers and police personnel clashed briefly, resulting in the recovery of two M16 rifles, an M14 rifle, an M79 grenade launcher and an M4 rifle. (PNA)