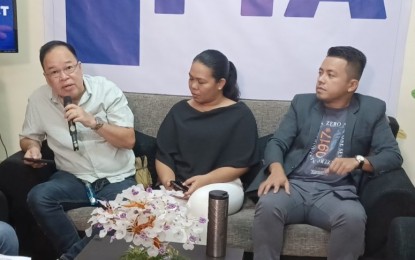 CEBU CITY – The National Telecommunications Commission (NTC) in Central Visayas has encouraged users of prepaid Subscriber Identity Module (SIM) cards to register at once and not to wait for the deadline to lapse to avoid the inconvenience of getting deactivated.
Bill Peralta, NTC-7 information officer, admitted that telecommunication companies experienced some glitches during the first few days of SIM card registration which started on Dec. 27 last year.
"Don't get disgusted. Just keep registering. It's normal to experience systems problems because many prepaid subscribers register their SIM cards at one moment. Just be patient," Peralta said in Cebuano.
Peralta said under Republic Act 11934 or the SIM Card Registration Law, if a prepaid subscriber fails to register within 180 days from the implementation of the law, the SIM card will automatically be deactivated and needs registration before it can be activated again.
"You can't call (anymore). It can be reactivated once you will register the SIM card. You are given another extension of 120 days to register and reactivate," he said, adding that those who will buy a new SIM card can only use it once they activate it through registration.
Rofil Sheldon Magto, Globe Telecom's corporate communications manager for Visayas-Mindanao, urged their customers to take the opportunity of registering their pre-paid SIM cards now to avoid a surge in the system when the deadline comes.
All prepaid subscribers in three telcos -- Globe, Smart, and Dito -- have until April 26, 2023 as deadline for registration.
"It takes less than 10 minutes to register your SIM cards. You can register anytime this week while the platform for SIM card registration is open. Do not wait for the deactivation before you register," Magto said.
He said by February, Globe will set up 3,000 touchpoints to help their prepaid subscribers to register.
PLDT-Smart group communications head Marylou Gocotano said they will work closely with the NTC-7 in rolling out registration booths and touchpoints to cater to special customers who need assistance in registering their SIM cards.
"Our senior citizens, persons with disabilities, parents of children, as well as those who are living in remote areas which we call geographically isolated or disadvantaged and in conflict-affected areas, we coordinated with the agencies of government like the Department of Information and Communications Technology, NTC, and local government units in setting up our assisted-registration booth," Gocotano said.
Meanwhile, Peralta reassured prepaid SIM card users that their data are well protected, saying that telcos are mandated by law to protect subscribers against data breaches and privacy violations.
He said the law was passed to help the government curb scams and other crimes.
Magto said that even before RA 11934 was signed into law by President Ferdinand R. Marcos Jr. in October last year, Globe spent around US$20 million to wrap up its information security platforms that include detecting and blocking scams and spam messages.
He said the telco has blocked close to 800 million scam and spam messages, including messages that had clickable links. (PNA)