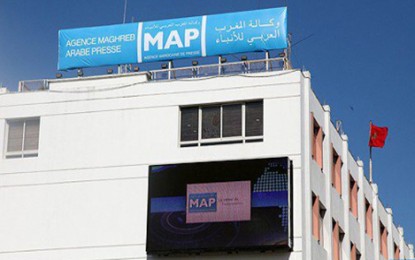 RABAT – Minister of Youth, Culture and Communication Mohamed Mehdi Bensaid on Tuesday emphasized the major role of the Moroccan Press Agency (MAP) in covering all actions and activities of state institutions and strengthening the image of the Kingdom internationally.
"MAP plays a major role that must be strengthened," said Bensaid, who spoke at a meeting of the Committee on Education, Culture and Communication in the House of Representatives, devoted to the examination of issues concerning youth, media and culture in the Kingdom.
He added that the strength of the Agency lies in its network of more than 100 journalists operating in several countries around the world and working to publicize the achievements of Morocco and strengthen the image of the Kingdom internationally.
The Minister praised the "personal" effort of the agency, its development and its investment in new services and media without resorting to a request for an increase in the budget allocated to it by the State, noting that a debate is underway on the future role of MAP and the evolution it is experiencing, which involves the Ministry, the Secretariat General of Government and the agency itself.
For their part, the members of the Parliamentary Committee have also welcomed, during their interventions, the role of MAP and the considerable efforts made by the Agency for the international influence of the Kingdom on media, cultural and political levels.
They also stressed that the agency is a national media institution whose mission is to defend the interests of the Fatherland and face its opponents abroad, calling to support this institution and ensure its development, and the promotion of the media field in general. (MAP)