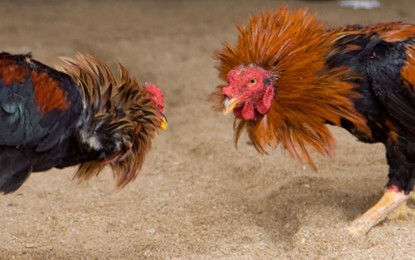 CEBU CITY – The Police Regional Office in Central Visayas (PRO-7) on Wednesday said it has filed charges against an employee of a cockpit arena who was caught while working as a handler in a cockfight business for "e-sabong" or online cockfighting bettors, an official said.
Brig. Gen. Jerry Bearis, PRO-7 chief, said Donn Caezar Aquino Caballero, 23, of Barangay Lagtang in Talisay City was arrested during an entrapment operation in the upland village of Bugho in the southern town of San Fernando on Monday as seven others eluded the arrest after sensing the presence of the operating team.
Caballero was arrested by operatives from the Regional Anti-Cybercrime Unit-7 (RACU-7), Regional Intelligence Division 7, Regional Mobile Force Battalion-7, Provincial Intelligence Unit of the Cebu Provincial Police Office and San Fernando Police Station.
According to the police, Caballero was one of the employees of the cockpit that airs via the internet their cockfights for their e-sabong bettors in Cebu.
The report said the online cockfighting in Barangay Bugho would start at 5 a.m. until the dawn of the following day with at least 200 games per day.
The police said Caballero's job was to hold the rooster while fitted with a cockfighting blade or gaff.
Seized from the cockpit were gadgets used in operating online cockfight such as video cameras, a Wi-Fi router, a satellite disk, transition and equalizer boxes, uninterruptible power supply, 28 dead fighting cocks, 28 severely wounded roosters, assorted identification cards, gapers and ties and PHP528 bet money.
"In compliance with the directive of DILG (Department of the Interior and Local Government) Secretary Benjamin "Benhur" Abalos Jr. regarding e-sabong, our police forces are intensifying our effort to suppress the spread of illegal gambling using the online platform. We can make our campaign against e-sabong easier with the support from the community who also does not want illegal gambling to proliferate," Bearis said in a statement.
He said he directed the intelligence division to conduct an investigation to identify the operator of the online sabong business in Barangay Bugho.
He lauded the collaboration of the operating units in their relentless crackdown against illegal gambling in Region 7.
Caballero is now facing criminal charges for violation of Presidential Decree (PD) 1602, the law that provides stiffer a penalty for illegal gambling, in relation to PD 449, the Cockfighting Law of 1974. (PNA)