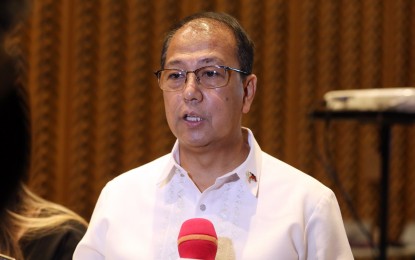 MANILA – Senators have supported the appointment of Secretary Carlito Galvez Jr. citing him as the best man to lead the Department of National Defense (DND).
Senator Jinggoy Estrada said this decision of President Ferdinand R. Marcos Jr., which came three days after the designation of Gen. Andres Centino as Armed Forces of the Philippines (AFP) chief of staff, will somehow give a sense of stability insofar as the leadership in the DND and its attached agencies/organizations are concerned.
"I am hoping that Galvez will eventually be nominated for confirmation before the Commission on Appointments to allow him to fully discharge his functions and responsibilities, not just in an acting capacity" the senator said in a statement.
Senate President Juan Miguel Zubiri, for his part, said he sees no problem for Galvez to pass the Commission on Appointment (CA) saying he knows the officer personally as they have been working in the Bangsamoro Organic Law, when the former was the AFP Chief of Staff.
As for Centino, Zubiri said he will still need CA approval although he was already a 4-star General. Centino was appointed as AFP chief of staff by then President Rodrigo Duterte. He was replaced by Lt. General Bartolome Vicente Orpilla Bacarro and was reinstated by President Marcos.
Meanwhile, the Senate President described Galvez as a man of peace, as he also revealed that he was the one who recommended him to former President Rodrigo Duterte as Office of the Presidential Adviser on the Peace Process (OPAPP) secretary and helped him in the extension of the Bangsamoro Parliament, an extension of the Bangsamoro Transition Authority until 2025.
"I worked well with him (Galvez). He has a great heart for our people. He knows fully well the security concerns of our country, both internal and external. Remember that he was also instrumental in the incorporation of the NTF-ELCAC (National Task Force to End Local Communist Armed Conflict) in government, which dramatically brought down identified communist areas. So he's a great man for the job, I fully support him. I think he will have a great -- not an easy -- but he will have no difficulties in hurdling the Commission on Appointments." Zubiri said in a news forum. (PNA)