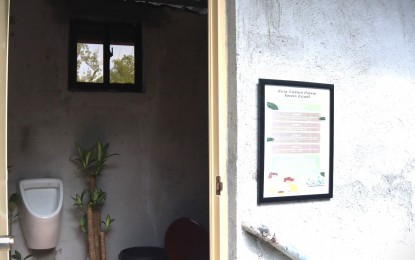 CITY OF SAN FERNANDO, Pampanga – The Department of Environment and Natural Resources in Central Luzon (DENR-3) has put up an eco-toilet (e-toilet) facility in Orion town, Bataan province as part of the continuing effort to reduce the pollution in Manila Bay areas.
DENR-3 Regional Executive Director Paquito Moreno, Jr. said on Wednesday the eco-toilet facility developed by the Mines and Geosciences Bureau (MGB) and built at the Sibul II Mangrove Nursery and Eco-Tourism Park in Orion aims to prevent potential contamination of river systems and coastal areas from E. coli.
Moreno said through the facility, they want to promote the use of a waterless toilet or dry toilet system as an alternate solution to water-flushed toilets.
"Through this initiative, the volume of pollutants draining to water bodies along the Manila Bay area may be reduced, which will eventually help us in achieving the coliform limit of 200 most probable number (MPN) per 100mL for Class C water classification," he said in a statement.
Moreno said the concept of the first waterless toilet facility in the region supports DENR's endeavor to integrate biotechnology as an effective way to address environmental concerns and mitigate the effects of climate change.
According to the MGB, the eco-toilet system works by separating human waste from urine, which passes through the urine diverting dehydrating toilet bowl.
Upon separation, the nitrogen-rich solid waste is then covered with agro-industrial materials like fly ash, bentonite and zeolite, including organic-rich matters such as shredded dried leaves and carbonized rice husks.
This creates an alternating layer of n-rich and c-rich materials, which act as basic components of fertilizer.
On the other hand, the urine is likewise treated and processed into a liquid fertilizer.
Moreno said the DENR is set to install these e-toilet facilities in other Manila Bay areas in the region.
The Manila Bay area covers eight provinces and 178 local government units in three regions of the country -- the National Capital Region (NCR), Central Luzon and Calabarzon.
Of the eight provinces, Bataan, Bulacan, Cavite and Pampanga are coastal areas. (PNA)