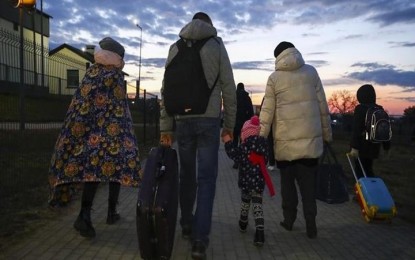 ISTANBUL – The number of Ukrainians who crossed the border into neighboring Poland since the war began has shot past 9 million, the Polish Border Guards said on Wednesday.
Since the beginning of the Russia-Ukraine war on Feb. 24, setting off a large migration flow, as of Tuesday the total number of Ukrainian refugees who crossed over to Poland topped 9 million by a full 74,000, it said in a tweet.
It added that yesterday alone some 29,900 people arrived from Ukraine to Poland.
However, during that time, some 7.25 million Ukrainians have since exited Poland, according to the Polish Border Guards, leaving the current number of registered Ukrainian refugees at some 1.5 million, the UNHCR refugee agency said last month.
According to the Organization for Economic Cooperation and Development (OECD), Poland spent €8.36 billion (USD8.98 billion) on housing, health care and other services for Ukrainians in 2022, the highest amount among member countries, said a separate tweet. (Anadolu)