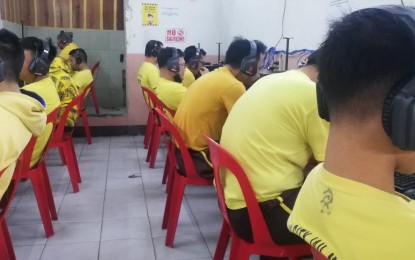 BAGUIO CITY – The digital age ushered in a new era not just for ordinary people but also for persons deprived of liberty (PDLs) as it enabled them to connect with their families while behind bars.
For 'Redman' (not his real name), a 40-year-old inmate at the Baguio City Jail Male Dormitory (BCJDM), the 'e-dalaw' program of the Bureau of Jail Management and Penology (BJMP) gave him a priceless Christmas gift -- a chance to reunite with his loved ones virtually.
"Walang akong dalaw noong Pasko kasi nasa abroad na ang parents ko, ang mga anak ko maliliit pa, 12 at 6 (years old) at nasa probinsiya kasama ang grandparents nila tapos yung partner ko nag-abroad din (My parents are abroad, my children are 6 and 12 years old are with their grandparents and my partner has gone overseas so nobody visited me last Christmas)," he said in a recent interview.
Under the program, inmates at the facility are allowed to use the Messenger app for one hour twice to thrice a week.
Redman said weekend schedules are devoted to his children and he sometimes even helps them in doing their assignments.
"Malaking bagay na makita mo, makausap mo kahit na sa video call lang ang mga mahal mo sa buhay para makita mo rin ano ang ginagawa nila. Tulad ko rin, kapag weekend, kausap ko mga anak ko, itatanong ko kung may assignment sila, ipapakita nila via video call natutulungan ko rin sila sa homework (it is a big deal seeing your loved ones through video call where you can see what they are doing. Like me, I talk to my children on weekends I can even help with their assignments)," he said.
"Kahit one hour lang binibigay ng jail, nalalampasan yung mga pagka-miss sa relatives (even if it is just an hour, it addresses your longing to be with them)," he added.
Redman was brought to the Baguio City Jail Male Dorm (BCJMD), managed by the BJMP, during the pandemic in mid-2021 where he spent two Christmas celebrations with his family through video chat.
"One of these days, during my children's vacation and if there will be an adult who can accompany them, maybe I would like to see them personally but for now that is impossible, the online visitation will suffice," he added.
Jail Officer 1 Erik Mendoza of the operations section of the BCJMD said the 'e-dalaw' is limited to the Messenger app or a call for those who need to communicate with their family who does not have the app.
"They are limited to the use of the messenger, their personal messenger, as a security measure to prevent unnecessary posts or the possibility of having prohibited transactions," Mendoza said.
He said that there are 15 computers used for the 'e-dalaw' which is timed to assure that everybody gets an opportunity.
"Especially at the height of the pandemic when face-to-face visits were not allowed, the 'e-dalaw' proved to be very useful to the PDLs and their families," he added.
Each PDL is provided one hour but those who opt not to avail of the time with their families regularly visiting, give their slot to the others like Redman.
"The BJMP also care for the psychosocial and mental well-being of the residents, and preventing them to communicate with their loved one's address will also be a problem as they cause trouble in the facility," he added,
He added that the initiative allows PDLs to maintain healthy relationships with their families through communication, which contributes to their mental well-being. (PNA)