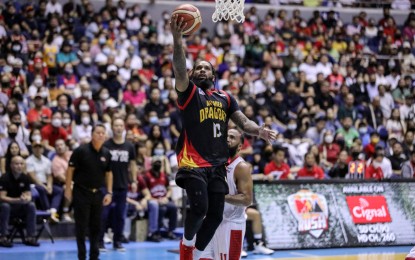 MANILA – For someone with a toe tendon injury, it must have been hard for Myles Powell who is sitting out the PBA Commissioner's Cup Playoffs.
Bay Area coach Brian Goorjian admitted that as much as he wanted Powell to suit up, he really had to sit out to recover.
"I don't want to risk his health and I told him that," Goorjian said on Wednesday night.
However, with Andrew Nicholson's ankle injury he suffered in Game 3 of the Finals against Ginebra taking some time to heal, Goorjian had no other recourse but to bring back Powell with his team down 2-3 in the best-of-seven series.
With all the sacrifices the Dragons' coaching staff did just to keep him healthy enough, Powell, probably still not 100 percent, returned the favor.
Powell, despite the risk that he could aggravate his injury, played probably the game of his life, willing his team to an 87-84 win against the Gin Kings in Game 6 of the series on Wednesday night at the Smart Araneta Coliseum in Quezon City.
Powell finished with 29 points, seven rebounds, and three assists, but it was his heroics down the stretch that mattered the most.
He scored the game's last six points, but the big moment came with 5.4 seconds left when he rebounded his own free throw miss after Ginebra failed to secure the board and eventually made another charity to force the opposing squad to go for a three to force overtime, where it had been struggling all game long.
Powell's fellow Dragons then put up a great defense that forced the Gin Kings to pass the ball to Japeth Aguilar, who despite having his clutch moments from long range in the past missed the equalizer as time expired.
"I was just being out there with my brothers in the will to win. I know what we had to do and what I mean to the team. If I couldn't bring that, I wouldn't have stepped up on the floor. The coaches sacrificed for us, and it was my turn to sacrifice and that's why I went out there and did today," Powell said.
"[Myles] is not in a condition to walk into something like that. It's totally his will, and his spirit is incredible," added Goorjian. "He took us into the promised land, so we got another [game]."
That "another game," Game 7, will be played on Sunday night at the Philippine Arena in Bocaue. (PNA)