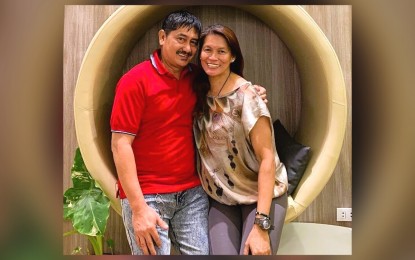 MANILA – The Philippine Athletics Track and Field Association (PATAFA) has appointed George Noel Posadas as head coach of the national team.
He has been a jumps and sprints coach since 1990 and has produced many of the country's topnotch athletes.
"I was shocked. I did not expect to be selected as head coach of the national athletics team," said the 60-year-old Posadas in an interview on Thursday.
The other members of the coaching staff are Dario De Rosas and Sean Guevarra (multi-event), Jeoffrey Chua (sprints and hurdles), Emerson Obiena (pole vault), Joebert Delicano (jumps), Arniel Ferrera (shot put, discus throw and hammer throw), Danilo Fresnido (javelin throw), Isidro Del Prado (middle sprint), John Lozada (middle distance) and Eduardo Buenavista (long distance).
Renato Unso, a hurdles champion, is the PATAFA training director.
"We will work together as one team and one goal in line with the vision and mission of PATAFA," said Posadas, who is married to long jump queen Elma Muros, one of the most bemedalled athletes in the Southeast Asian Games (SEAG) history.
Posadas emphasized the need to make the athletes competitive in the SEA region and Asia.
"First and foremost, I will upgrade the level of the athletes especially their performances, not only for SEA Games. The target is Asian Games level or medalist," said Posadas, who hails from General Santos City, South Cotabato.
"We need to identify from among the members of the national team and determine who are capable of becoming world class or Olympic caliber but need high-level training and exposure. These athletes should be given full support, if possible, to train abroad with a legitimate world-class coach, world-class training camp and facilities. The training must be not less than one year," he added.
Posadas is also an accomplished coach in collegiate leagues with 23 titles -- 17 in the University Athletic Association of the Philippines (UAAP) and six in the National Collegiate Athletic Association (NCAA).
In the UAAP, Far Eastern University (FEU) pocketed 12 titles (seven in men's and five in women's) titles, University of the East (UE) got three (women's) and University of the Philippines (UP) won twice (men's) while in the NCAA, Jose Rizal University (JRU) bagged six titles (men's) under Posadas, who worked in tandem with Elma.
Elma was born and raised in Magdiwang town in Romblon province. Dubbed as the "Long Jump Queen" of the Philippines, she competed at the 1984 and 1996 Olympics and had won 15 gold medals in the SEA Games. She retired from active competition after winning her last gold medal in heptathlon at the 2001 SEA Games in Kuala Lumpur, Malaysia.
"The 2010 title of JRU was two years in the making and it came after 75 years. Five straight championships, it has never happened in the NCAA history," shared Posadas.
In 2019, JRU (formerly Jose Rizal College) was celebrating its 100 years founding anniversary when its track team secured its sixth crown.
"It was the most meaningful and memorable title because JRU became a centennial champion," said Posadas, who considered his biggest achievement was producing 25 national athletes coming from the schools he and Elma coached.
Among their products are three-time Olympian and four-time SEAG medalist Marestella Torres and two-time Olympian Lerma Bulauitan of FEU; three-time national champion Grace Melgar (400m), Joan Banayag (marathon) and 2005 SEAG gold medalist Mercedita Manipol (10,000m) of UE; 2022 SEAG gold medalist Melvin Calano (javelin throw), three-time SEAG and Asian Championships silver medalist Mark Harry Diones (triple jump), 2022 Thailand Open gold medalist John Albert Mantua (shot put) and national champion Frederick Ramirez (400m) of JRU; and Alhryan Labita (400m) of UP.
Posadas, who has a Bachelor of Science in Commerce (major in accounting) degree from the Notre Dame of Dadiangas University, married Elma in 1989. They have two children, Klarrizze Yvhonne, 30, and George Michael, 19. (PNA)