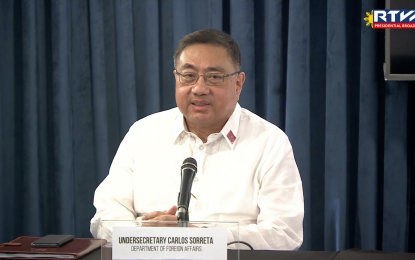 MANILA – Ukraine must schedule an appointment with President Ferdinand R. Marcos Jr. before a phone conversation with Ukranian President Volodymyr Zelensky could push through, the Department of Foreign Affairs (DFA) said Thursday.
DFA Undersecretary Carlos Sorreta made this remark after Denys Mykhailiuk, the chargé d'affaires of the Ukraine Embassy in Malaysia bared that Ukraine has yet to receive a response from the Philippines despite having made a formal request since June last year.
"If he wants this to happen, we have to discuss it. These things are arranged, talking points are discussed…It's not good diplomatic practice to be doing it the way he did," Sorreta said in a Palace press briefing.
Sorreta maintained that the Philippines continues to have a "good relationship" with Ukraine, but the envoy's decision to air his grievances publicly does not sit well with him.
"Ukraine is a country we have a good relationship with but when matters like these are vented by representatives of another government…it's not something we appreciate," he added.
Mykhailiuk earlier bared that it has contacted Malacañang "twice a month" since June last year, but it has not responded to Ukraine's request for a dialogue between Marcos and Zelensky to discuss the war against Russia.
He likewise acknowledged that government officials might have been busy trying to connect with neighboring countries.
Should the phone conversation between the two leaders push through, Mykhailiuk said Zelensky will seek Marcos' help through the participation or co-sponsorship of the Philippines in the peace plan on the fields of the United Nations (UN) in February this year.
The Peace Formula, outlined by Zelenskyy in September last year, aims to punish Russia for crimes of aggression including implementing sanctions, such as trade and travel bans.
It "punishes aggression, protects life, restores security and territorial integrity, guarantees security, and highlights the importance of determination", according to the UN website.
In November last year, Marcos described the Russia-Ukraine war "unacceptable" and reiterated his call for both nations to end conflict diplomatically.
"...War is unacceptable and we ask all parties involved, there were several speeches that I made, urging that peace be brought back to Ukraine and that the confrontation be brought to the diplomatic space," Marcos said.
Ukraine has been in conflict with Russia since February 2022, leading to the death of thousands and driving millions of Ukrainians to flee the country.
Last week, Russia ordered a 36-hour ceasefire along the line of contact to observe Russia and Ukraine's Orthodox Christmas but Ukraine rejected the truce saying Russia must leave the occupied territories to call it a temporary truce. (PNA)