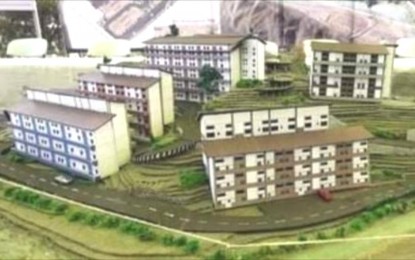 BAGUIO CITY – An additional 2,000 families will benefit from the city government's housing project that would rise in its newly-acquired property.
"We signed the memorandum of understanding (MOU) with the DHSUD (Department of Housing, Settlement, and Urban Development) on the first week of January for the township development project of the lot in Tuba, Benguet," Mayor Benjamin Magalong told reporters on Wednesday.
A total of 2,000 housing units would be constructed in the 6.3-hectare property.
"This will be the second socialized permaculture housing project with the Luna Terraces project in Irisan barangay that is ongoing completion," he added.
He said the city targets to build multi-level housing buildings that can accommodate 8,000 to 10,000 families in various sites.
Magalong said the Luna Terraces project which was designed to have 10 buildings with a total of 260 units was also supported by the DHSUD and the National Housing Authority (NHA).
The DHSUD granted PHP155 million for the site development while the NHA provided PHP50 million for the construction of two buildings with 62 units and another PHP326.17 million for the completion of the eight remaining buildings.
The city has announced that it is continuously accepting offers from lot owners for its housing projects.
Aileen Refuerzo, the city's chief information officer, said the project is in line with the "Pambansang Pabahay para sa Pilipino", the flagship housing program of President Ferdinand R. Marcos Jr.
She said the city's concept of housing project is permanent agriculture (permaculture) to achieve its goal of establishing a sustainable and livable community in line with the city's thrust to address urban decay.
It also incorporates breathing and green spaces as part of the site.
The same concept will be adopted for the new project which is expected to break ground before the end of January. (PNA)