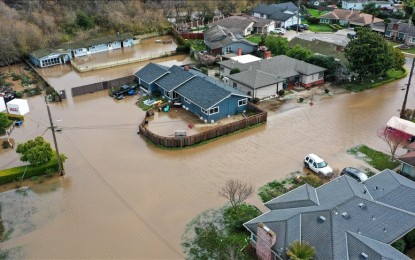 MICHIGAN, United States – Seventeen people are dead Wednesday from storms that have forced many to evacuate their homes as incessant rain that started late last month continued to batter the US state of California.
Although conditions had eased, thunderstorms were predicted for northern areas of the state and another fierce front is forecast to hit Friday that may last until Jan. 17, according to the Los Angeles Times.
More than half of California's 58 counties have been declared disaster areas.
Over 10,000 people in central coastal towns were ordered to evacuate in the last week but residents were allowed to return home Wednesday. The areas include the wealthy Santa Barbara County, home to Prince Harry and Princess Meghan.
In other counties, such as Monterey, a levee breach forced evacuations. Rockslides, harsh flooding and mudslides have left property destroyed in their wake.
Governor Gavin Newsom urged caution during the next week and asked residents to keep their guard up.
"Our message to Californians is simple: be hyper-vigilant. There are still several days of severe winter weather ahead. We need all Californians to heed the advice of emergency officials," he said in an address Monday.
The extreme conditions have been caused by an atmospheric river storm -- a narrow but fierce current formed in the air above the ocean carrying large amounts of water vapor. Traveling from the tropics into northern latitudes, the storms drop huge amounts of rain into rivers and soil below that cannot accommodate the deluge.
Newsome announced new investments Sunday into the state budget of USD202 million for long-term flood prevention, according to a statement.
Repairing the damage is estimated to cost USD1 billion, according to Adam Smith, a disaster expert with the National Oceanic and Atmospheric Administration. (Anadolu)