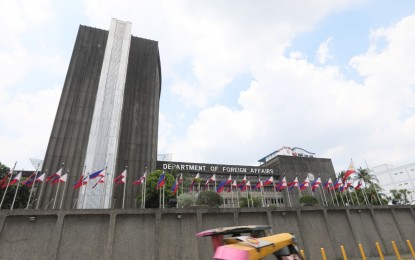 MANILA -- The Philippines and Ukraine had "high-level interactions" in November 2022, with the Philippines expressing support to Ukraine for its accession to the Treaty of Amity and Cooperation (TAC) of Southeast Asia.
The Department of Foreign Affairs (DFA) made the statement Thursday following Ukraine's claim that the presidential office is yet to respond to its request for a phone call between President Ferdinand R. Marcos Jr. and Ukraine President Volodymyr Zelensky.
In a press briefing on Wednesday, Chargé d'affaires of the Ukraine Embassy in Malaysia Denys Mykhailiuk said Zelensky would like to discuss with Marcos the role of the Philippines in the Ukraine-Russia conflict.
"DFA Secretary Enrique A. Manalo met with Ukrainian Foreign Minister Dmytro Kuleba on the sidelines of the 40th and 41st ASEAN Summits held in Cambodia," the DFA said in a message to reporters.
The agency noted that the displacement of civilians has been a serious consequence of Russia's aggression against Ukraine.
"We have supported efforts in the United Nations not only to seek a peaceful end to this conflict, but also to address the pressing and urgent humanitarian issue of displaced civilians," it said.
"We see the European Union's 10-Point Plan for stronger European coordination on welcoming people fleeing the war from Ukraine as a meaningful response to the UN resolutions on Ukraine, all of which we have strongly supported, particularly on the protection of civilians," it added.
During their November 2022 meeting, Kuleba thanked Manalo for the Philippines' support to Ukraine in the UN General Assembly held in September last year.
The same support to Ukraine was reflected in the Joint Statement of the ASEAN and EU leaders in Brussels in December 2022, to which the Philippines was country coordinator, the DFA said. (PNA)