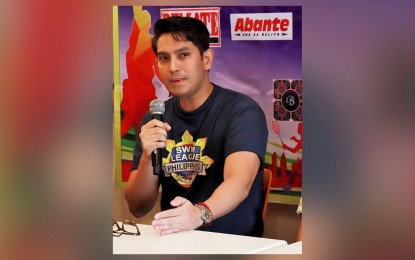 MANILA – A total of 350 swimmers from 20 clubs in Mindanao will see action in the Mindanao Swim Series 1-Davao del Sur Cup scheduled on Jan. 14 and 15 at the Davao del Sur Sports Complex pool in Barangay Matti, Digos City.
The event organized by the Swim League Philippines (SLP) aims to strengthen the sport at the grassroots level and to provide training for coaches and technical officials.
SLP President Fred Ancheta said the tournament is pre-qualifying to select the members of the team going to the Middle East Open in Dubai, United Arab Emirates (July), Bangkok Invitational Schools (March) and World University Games in Chengdu, China (July 28-Aug. 8).
"We're happy and proud of our Mindanaoan brothers who are always supporting our grassroots program. We join the call for unity to promote reforms in swimming and through tournaments like this, we can prove that we value our young talents from Mindanao," said Ancheta on Thursday.
"We will come to our brothers in the province to give them the opportunity and they don't have to spend on transportation fare going to Manila," he added.
From Davao del Sur, the tournament will go to Zamboanga City for the Mindanao Series 2 on June 17-18. Series 1 of the Visayas leg will be held on March 18-19 in Tagbilaran City, Bohol province while Series 2 is scheduled on April 29-30 in Bacolod City, Negros Occidental.
"We are not only concentrating in Manila. We will comb the whole country to find hidden talents we can train to become future national athletes," Ancheta said.
He emphasized that SLP tournaments are open and its program is focused on expanding the knowledge in swimming.
"Everyone can join. Whatever swimming club or organization and affiliations, nobody will be left behind. Our purpose is sports development so we must be united and focus our attention to one direction," said Ancheta.
Those who are interested to join the other SLP tournaments may contact Rolly Dela Cruz (0905-8479233, 0919-5772982, [email protected]) and SLP (0917-7140077). (PNA)