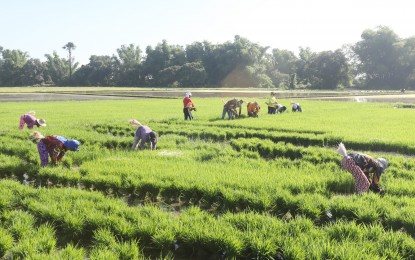 CITY OF SAN FERNANDO, Pampanga – The Department of Science and Technology in Central Luzon (DOST-3) is developing a system that can predict rice yields accurately.
Dr. Amy Lizbeth Rico, a professor of the Tarlac Agricultural University (TAU) in Camiling town, Tarlac province, said in a statement on Thursday that predicting rice yields accurately "allows the government to plan the production, distribution, and consumption of food more effectively, combat food insecurity, and prepare for shortages and supply shocks well in advance."
Rico is the project leader for a research study being funded by DOST under its Regional Grants-in-Aid program (DOST3 – RGIA) entitled Satellite Imagery Crop Monitoring and Forecasting Systems for Agricultural Technology (SICAT) project.
She cited the importance of accurate prediction of rice yield with a specific field to determine the harvest per region considering that climate change and rapid population growth in the country have brought huge pressure on food demand and production.
Through Project SICAT, a rice crop advisory system developed by TAU, she said that yield forecasting can be done and necessary advisories could be issued accordingly.
Rico said the project researchers are now validating rice growth satellite images and developing phenological characteristics and algorithms for rice growth and yield that will be validated with ground data for accurate and precise predictions.
Likewise, she said information dissemination among target users such as farmer groups and agricultural technicians in Tarlac is being conducted to ensure the eventual smooth deployment of the technology.
The project is expected to be completed by October this year. (PNA)