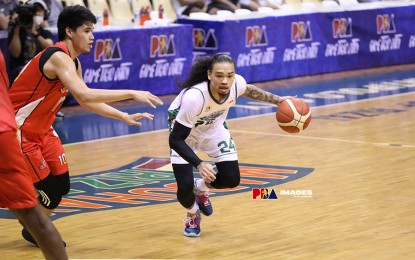 MANILA – NorthPort continues to shake its lineup for the PBA Governors' Cup, this time acquiring Joshua Munzon in a trade with Terrafirma.
In exchange, the Batang Pier sent Kevin Ferrer to the Dyip.
Both teams initially proposed Javi Gomez De Liaño and MJ Ayaay be added to the mix with NorthPort giving up two future second-round picks to the Terrafirma to sweeten the pot, but both teams opted to go with the Ferrer-Munzon trade instead.
Munzon averaged 8.8 points, 3.2 rebounds, 1.4 assists 1.2 steals, and 0.3 blocks a game in the Commissioner's Cup, but he really struggled offensively, only registering a 30 percent field goal shooting including 23 percent on threes and 55 percent free throw shooting.
Ferrer, on the other hand, averaged 7.7 points, 1.4 rebounds, 0.9 assists, 0.4 steals and 0.1 blocks a game in the soon-to-end conference.
However, despite having Arvin Tolentino and William Navarro with him, Ferrer upped his numbers in the quarterfinals, tallying 16.5 points, 2.5 rebounds and 1.0 assists a night in the Batang Pier's series against Barangay Ginebra.
Both Munzon and Ferrer are looking for fresh starts with their new teams for the season-ending conference. (PNA)