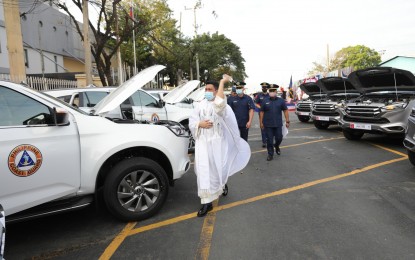 MANILA – Department of Transportation (DOTr) Secretary Jaime Bautista on Thursday vowed to continue the "comprehensive modernization" of the Philippine Coast Guard (PCG) through the acquisition of new assets and training for its officers.
In a statement, Bautista said the modernization efforts will turn the PCG into a "world-class" service and develop its personnel to become "comparable to Coast Guards of other developed countries."
"Given the inherently international nature of shipping and maritime transportation, attendance in world-class educational programs from these prestigious institutions should not be taken for granted," he said.
To date, he said the PCG has grown to over 26,000 personnel, compared to only having 7,000 personnel a few years ago.
The PCG, he said, "plays a vital role" in maritime safety and security and called for continued diplomacy in the country's sovereign waters.
He also commended the PCG for its humanitarian efforts, such as helping in search and rescue as well as serving as first responders in calamity-hit areas.
He also took note of the PCG's role in marine environmental protection, including the prosecution of illegal poachers.
Earlier, PCG Commandant, Admiral Artemio Abu, led the turnover and blessing of 31 new land mobility assets at the PCG national headquarters in Port Area, Manila.
These vehicles, Abu said, will be used by "various staff officers, major commands, units and Coast Guard districts" to boost their services and performance. (PNA)