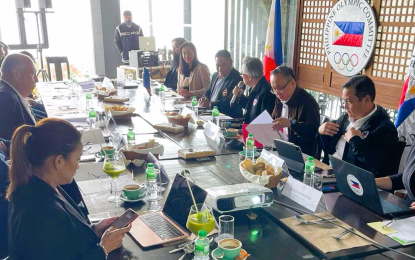 MANILA – Officials of the Philippine Olympic Committee (POC) and the Philippine Sports Commission (PSC) will discuss next week the preparations for the 32nd Southeast Asian Games which will be hosted by Cambodia from May 5-17.
"Hopefully, we'll be officially meeting with the PSC not later than Wednesday next week to get the task rolling," said baseball association president Chito Loyzaga, who was designated Chef de Mission (CDM) of Team Philippines, during the POC Executive Board meeting at the Knights Templar Ridge Hotel in Tagaytay City on Thursday.
POC President Abraham Tolentino has assigned deputy secretary general Bones Floro to arrange the meeting with PSC Chairperson Richard Bachmann.
The office of Loyzaga is busy finalizing the composition of the Philippine delegation to comply with the Jan. 14 deadline set by the Cambodia SEA Games organizers for the submission of entry by number.
"The POC objective is to participate in all events possible, there's no issue there. That's our mindset, the CDM staff and the entire organization," said Loyzaga, a Philippine Basketball Association (PBA) Legend.
There are 608 events in 49 sports in Cambodia, much bigger than the 530 events in 56 sports in 2019 (Manila) and the 526 events in 40 sports in Vietnam last year.
"With that goal, we're looking at a more than 800-athlete delegation and a total delegation of 1,200 -- counting the coaches, medical and administrative staff," said Loyzaga.
The government has allocated P250 million for the SEA Games preparation and participation.
"That's one of our main concerns with the PSC. After we have finalized the entry by numbers, we'll be ready for some pencil-pushing and calculation and come up with an actual cost," said Loyzaga.
The Philippines is eyeing to duplicate its fourth-place finish in Vietnam despite the tough opposition it would be facing in Cambodia.
"As a former athlete, I aim to win, always go for the win. But you can't win all the time. It will be a tough challenge in Cambodia," said Loyzaga, who is assisted by deputy chiefs of mission Leonora Escollante of canoe-kayak and Paolo Tancontian of sambo. Baseball, canoe-kayak and sambo are excluded in the Cambodia SEA Games program. (PNA)