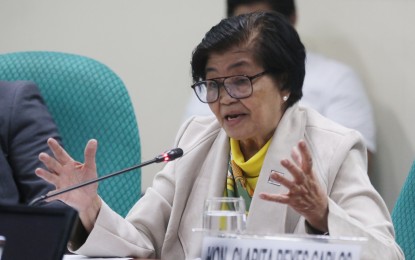 MANILA – All programs, projects and activities of the National Task Force to End Local Communist Armed Conflict (NTF ELCAC) would proceed despite the transition to a new leadership.
"NSA (National Security Adviser) Dr. Clarita Carlos stressed that work on the programs, projects and activities of the regions' work did not stop during the transition to a new leadership," the National Security Council Strategic Communications Office said in a statement released on Friday.
Carlos noted this on the second day of the year-end reports of the Joint Regional Task Forces under the NTF-ELCAC.
The Western Visayas task force, for example, reported that 314 livelihood projects are fully funded and that 195 of them have been completed.
They also intensified its information drive, including counter-youth infiltration, to neutralize and overwhelm communist terrorism group propaganda.
Moving forward, the regional task forces said they would strengthen inter-agency collaboration, focus on environmental protection, and zero in on a participatory approach.
In turn, the Central Visayas NTF-ELCAC task force reported that they have enhanced their umbrella program, the Retooled Community Support Program, and that the program has successfully identified targets for basic services and strengthened local government empowerment which have led to greater public awareness and expanded infrastructure and resource management.
Carlos said she was encouraged by the progress and accomplishments made by regional NTF-ELCAC task forces.
She urged them to "focus on outcomes and the changes in attitude" from the interventions and projects to determine the positive impact of NTF-ELCAC activities on the communities.
Other regional task forces focused on barangay development, community consultations, and youth participation in local governance.

Meanwhile, a key official of the Philippine Army in Negros on Friday welcomed the decision of Carlos that all programs, projects and activities (PPAs) of the NTF-ELCAC will continue under the Marcos administration.
Brig. Gen. Leonardo Peña, commander of the 302nd Infantry Brigade of the Philippine Army based in Tanjay City, Negros Oriental, said the move would further motivate the forces in Central Visayas to pursue efforts to end local terrorism.
"I am happy (about it). The positive direction of the NTF-ELCAC towards the completion of its programs, projects, and activities is very motivating not only for our forces here in Central Visayas but for the entire TF-ELCAC membership," Peña told the Philippine News Agency.
The 302nd IBde's area of operations covers the central and south portions of Negros Oriental and the "CHICKS" area (Candoni, Hinobaan, Ilog, Cauayan, and Kabankalan City and Sipalay City) in Negros Occidental.
Among the four provinces in Central Visayas or Region 7, Negros Oriental still has the most significant insurgency problem posed by the Communist Party of the Philippines-New People's Army. (PNA)