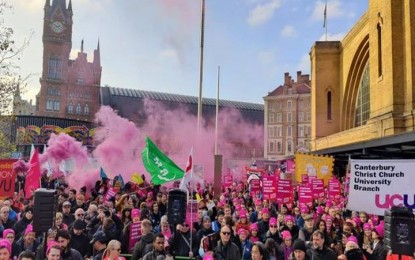 LONDON – More than 70,000 staff at 150 universities across the United Kingdom will go on strike for 18 days between February and March as disputes with university employers continue over pay, working conditions and pensions, the University and College Union (UCU) announced Thursday.
The exact dates of the industrial action will be confirmed next week.
The Universities and Colleges Employers Association (UCEA), which represents university employers, made a pay offer worth between 4 percent and 5 percent Wednesday but UCU said the offer was "not enough. "
"Today our union came together to back an unprecedented program of escalating strike action. The clock is now ticking for the sector to produce a deal or be hit with widespread disruption," UCU General Secretary Jo Grady said in a statement.
"University staff dedicate their lives to education and they want to get back to work, but that will only happen if university vice-chancellors use the vast wealth of the sector to address over a decade of falling pay, rampant insecure employment practices and devastating pension cuts. The choice is theirs."
The UCU will also re-ballot staff at all 150 universities to renew its mandate and allow walkouts to be called well into 2023, including a marking and assessment boycott from April unless the disputes are settled.
Meanwhile, nearly 100,000 civil servants will go on strike on Feb. 1 over pay, jobs and working conditions, calling for a 10 percent pay increase, which the government considers "unaffordable." (Anadolu)