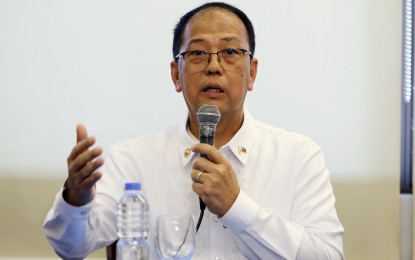 MANILA – Newly-appointed Department of National Defense (DND) Secretary Carlito Galvez Jr. dismissed talks of unrest within the ranks of the Armed Forces of the Philippines (AFP).
Rumors of unrest came following the resignation of DND officer-in-charge Jose Faustino Jr. and the appointment of Gen. Andres Centino as AFP chief, replacing Lt. Gen. Bartolome Vicente Bacarro.
"There is no truth to unrest. Maybe may nakita tayo some (we saw some) valid issues but we are resolving it now. Isa doon ang tinatawag nating (One those what we call) some delays in promotion. But yesterday (Wednesday) I talked to the President (Ferdinand R. Marcos Jr.) is it okay that we can submit immediately the promotion recommendations, he said even Saturdays and Sundays you can give it to me," he told reporters during a press conference on the sidelines of the AFP command conference in Camp Aguinaldo, Quezon City on Thursday.
Galvez said they are now fast-tracking some remaining promotions and deployment assignments of some military commanders.
"That's why I'm asking the Board of Generals to do overtime even during the weekend because during the promotion we have to bear in mind that Congress will be convening on January 16 so we have to finish the submission of the Board of Generals," he added.
Asked on the guidance he received from the chief executive, Galvez said the President told him to keep the focus on two major concerns which are to maintain the "integrity of our country and, second, to eliminate the different insurgencies that we have".
The DND chief added that Marcos has also ordered the AFP to refocus its mission on supporting the peace process.
"And that's one of our guidance, to harmonize our mission. One of our core missions of the AFP is to support the peace process to succeed. And that is our commitment. And we would like to convey to the President that the AFP and the DND (are) intact. And we are now looking forward (to) the thrust of the guidelines we have to accomplish for 2023 and beyond," he added.
Upholding meritocracy
Galvez, meanwhile, said meritocracy, inclusivity and a sense of fairness will always prevail in the professionalization of the AFP.
"We can assure during our watch we will also always maintain the integrity of the Board of Generals and the decisions of the Board of Senior Officers. And that is the one we are asking our leaders.. to respect the traditions and the mandated power of the Board of Generals and our senior officers. So yan ang ginawa namin (That is what we will be doing)," he added.
Galvez said he already reminded the Board of Generals of their sacred oath of upholding meritocracy and promoting governance and goodwill in selecting the promotion and placement of people within the organization. (PNA)