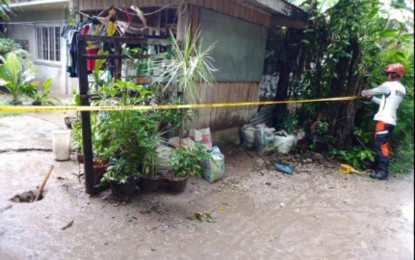 DUMAGUETE CITY –The Provincial Disaster Risk Reduction and Management Office (PDRMMO) of Negros Oriental warned the public against the presence of sinkholes after a suspected shallow hole was discovered Tuesday in La Libertad town at the height of recent weather disturbances.
PDRRMO officer-in-charge (OIC) Marlo Quilnet told the Philippine News Agency on Friday that the hole was discovered near a house in Magtalisay, Barangay Poblacion North, in La Libertad, when heavy rains hit the town and many parts of the province due to the low-pressure area and shear line.
"The hole appears to be getting bigger since it was discovered last Tuesday following heavy rains that affected the province due to the low-pressure area and shear line," Quilnet said.
He said the landowner first noticed the hole in the ground to be around three inches in diameter. The local DRRMO immediately sent a team to monitor the hole, and after a day, the diameter increased by one foot and the depth exceeded one meter.
Quilnet said the site where the supposed sinkhole was found is a limestone area.
Sinkholes develop when limestone deposits underground are eroded or worn away by the movement of water.
The "sinkhole" is now under close monitoring to ensure the safety of the residents nearby.
He said they will be requesting a team of geologists or scientists from the Mines and Geosciences Bureau of the Department of Environment and Natural Resources (DENR) in Region 7 to inspect and assess the suspected sinkhole to prevent untoward incidents. (PNA)