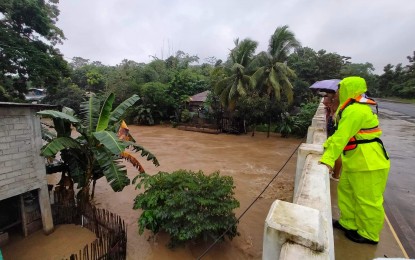 BACOLOD CITY – At least 15,198 persons from 4,476 families have been affected by floods brought by heavy rains due to a low pressure area and the shearline in Negros Occidental province since Wednesday, data of the Provincial Social Welfare and Development Office (PSWDO) on Friday afternoon showed.
Flood incidents were reported in the cities of Cadiz, Sagay, Bago, Talisay and in the municipalities of Cauayan, Candoni, Ilog, San Enrique, and Valladolid.
Affected families either just stayed home and waited for flood waters to subside while others sought shelter in various evacuation centers.
The worst-hit localities were in the south, particularly in San Enrique, where 7,663 persons from 2,048 families were hit by floods, while 5,795 individuals from 1,924 families were affected in the neighboring Valladolid.
In Cadiz, affected were 878 persons from 273 families; Cauayan, 272 persons from 68 families; Candoni, 243 persons from 68 families; Sagay, 169 persons from 51 families; Bago, 115 persons from 31 families; Ilog, 49 persons from 10 families; and Talisay, 14 persons from three families.
Provincial Administrator Rayfrando Diaz II said the PSWDO immediately provided food assistance and hygiene kits to families affected by floods.
"Even before the calamity strikes, they are prepared with food and non-food items," he added.
On Friday, Negros Occidental has remained under heightened alert status while classes in all levels were suspended as heavy rainfall is expected to continue in the province before the weekend.
"The alert status of the province shall be maintained under blue alert until the weather condition improves," Governor Eugenio Jose Lacson said in Executive Order 23-02.
"Blue alert" means the operation centers must be on standby and prepared to respond to any incident.
Earlier reports showed that in Talisay, a landslide was reported, affecting eight individuals in one damaged house while in San Carlos, a rockslide and mudslide was monitored along the Eco-Translink Highway.
Meanwhile, trips from the port of Cadiz in northern Negros bound for Bantayan Island in Cebu was canceled due to "unsafe weather condition" on Friday morning.
Trips of fast crafts and roll-on, roll-off vessels from the port of San Carlos going to Toledo City in Cebu were also canceled in the morning, but resumed in the afternoon after the weather condition improved, according to reports of the Philippine Coast Guard. (PNA)