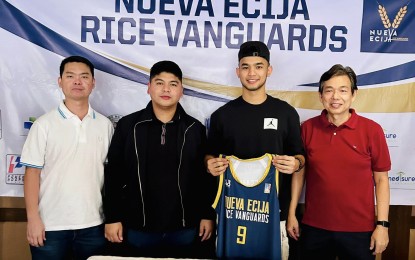 MANILA – Nueva Ecija just made its already too talented lineup even deeper in rotation after the team signed Harvey Pagsanjan.
The reigning Maharlika Pilipinas Basketball League (MPBL) champion announced on Friday that it has signed the six-foot combo guard for the upcoming 2023 season, which will start on March 10.
The former Batang Gilas standout played college ball with University of the East.
With the University Athletic Association of the Philippines not honoring a special guest license from the Games and Amusements Board that would have kept the student-athlete's amateur status despite playing in a professional league, the 24-year-old Pagsanjan has essentially turned pro and also forgone his final year with the Red Warriors.
Pagsanjan will have a reunion with fellow UE star Philip Manalang and coach Jerson Cabiltes, who was his coach at Hope Christian High School.
The core of the Rice Vanguards' 2022 championship team, including Manalang and Cabiltes, has been re-signed too as they set their sights on winning back-to-back MPBL titles.
Staying put with the Palayan-based club are Jonathan Uyloan, Renz Palma, Byron Villarias, Jay Collado, Michael Mabulac, Pamboy Raymundo, Michael Juico, Chris Bitoon, John Arenas, JP Sarao, and Clark Derige.
Cabiltes' coaching staff has been re-signed as well as he looks to pick up from where the team left off, a historic 2022 campaign that saw them win a Philippine record-breaking 25 straight games to start the season en route to the championship. (PNA)