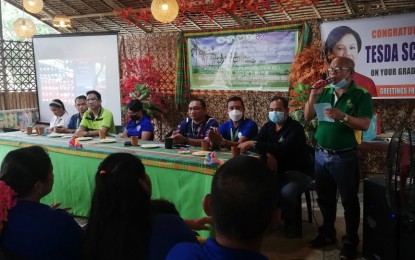 SAN JOSE DE BUENAVISTA, Antique – About 175 farmers from the municipalities of Sibalom and San Remigio in Antique province are now equipped with new farming technologies after completing their training from the Department of Agriculture (DA) and Technical Education and Skills Development Authority (TESDA).
In his message during Friday's graduation ceremony in Sibalom town, DA Regional Office 6 Technical Director on Operations Dominador Marquez said the training on the production of high-quality inbred rice, certified seeds and farm mechanization were provided to equip farmers on the new technologies and the use of new equipment offered to make them more competitive following the implementation of the Rice Tariffication Law.
"I laud the farmers for your eagerness to still continue on learning the technologies on farming and for your sacrifices," Marquez said.
Rhea Dacallo, manager of the TESDA-accredited Uswag Durog Rivergems Farm School that implemented the training, said 150 of the farmers trained on the production of high quality inbred, certified seeds and farm mechanization, while 25 finished the Agri-Crops Production National Certificate I (NC I).
She said the Agri-Crops Production NC I has been conducted as a pilot skills training of TESDA, with funds downloaded from the Philippine Coconut Authority (PCA) for training on how to intercrop vegetables with coconut.
Under the program, farmers were provided hands-on training on seedling propagation to fertilization of vegetables such as eggplant and squash from Nov. 25 to Dec. 22 last year.
"The training was intended for farmers to learn the technology on vegetable gardening so they would have income while they are waiting to harvest their coconut," Dacallo said.
Meanwhile, the 150 graduates of the production of high quality inbred, certified seeds and farm mechanization held their field tour with the National Food Authority (NFA) this week to see the various postharvest facilities, and be oriented on the palay procurement program of the government. (PNA)