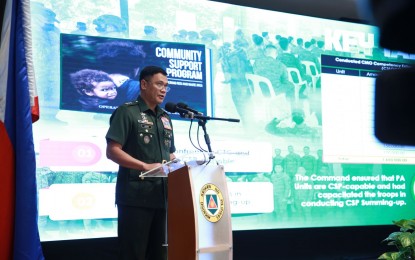 MANILA – The Philippine Army (PA) did well on the modernization front and performance of its mandate for calendar year 2022.
In a statement Friday, PA spokesperson Col. Xerxes Trinidad said among the Army's organizational highlights for the year include the reactivation of the 1st Tank Battalion, Armor Division and the activation of the 10th Field Artillery Battalion (SP-155), Army Artillery Regiment (AAR), two units that are at the forefront of Army modernization.
These were presented during the first PA Command Conference at Fort Bonifacio on Thursday.
"PA modernization projects that are currently on the tail-end of the Horizon 2 of the Revised AFP Modernization Program were likewise highlighted in his presentation," Trinidad said.
He also added that Army assistant chief-of-staff Col. Alvin V. Luzon also highlighted key accomplishments of the 110,000-strong PA for 2022 which include election security operations; disaster response efforts for typhoon and earthquake victims.
Other operational gains which resulted in four decisive engagements, 13 major engagements, 96 minor engagements, the neutralization of nearly 2,000 communist insurgents and local terrorist group members, and the capture of around 1,800 firearms.
The PA's major unit commanders, command group, general staff, personal staff, special staff, technical staff, functional commands, specialty enablers, and PA-wide support and separate units attended the Army-wide command conference on-site while brigade commanders attended the conference through video-teleconferencing.
Also discussed were key accomplishments based on its mission to develop, organize, train, equip, support, and sustain ground forces for the conduct of prompt and sustained ground operations to accomplish the AFP mission and progress on its updated Army Transformation Roadmap. (PNA)