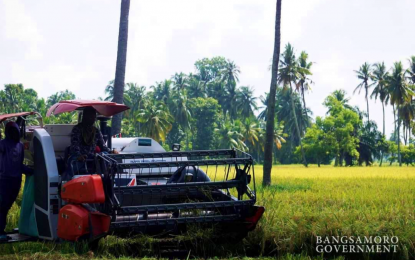 MANILA -- A party-list lawmaker on Friday said the PHP16-billion allocation for post-harvest facilities and services under the 2023 budget of the Department of Agriculture would help reduce farm input costs and make food prices more affordable.
"Kung magagamit ang mas malaking pondong ito para tulungan ang agri workers na mapataas ang kanilang produksyon, hindi basta-basta kukulangin ng supply na dahilan ng pagtaas ng presyo sa merkado (If we could use these funds to help our agri workers increase their production, we won't have constraints in supply, which is the reason why the prices are high in the market)," AGRI Party-list Representative Wilbert Lee said in a statement.
He said the allocation for post-harvest facilities and services of PHP 16.89 billion is part of the PHP174 billion received by the agriculture sector for 2023, which is a 20.2 percent increase from its PHP144.8-billion budget last year.
"From this huge increase, we expect nothing less than improved services for farmers and fisherfolk, and for the agency to finally address long-standing problems in the agriculture sector," the lawmaker from Sorsogon said.
He said the allocation would help lower production costs by providing access to cheap fertilizers and pesticides, farm equipment, proper irrigation systems, and more post-harvest facilities, such as cold storage and transport facilities.
Lee said this is one of the possible solutions to address the high prices of commodities, particularly red or white onion which is being sold from PHP420 to PHP600 per kilo in public markets.
The skyrocketing of prices is said to be attributed to low domestic production, which is a result of increasing production cost, lack of post-harvest facilities and rampant agricultural smuggling.
Earlier, Lee has expressed his full support to House Ways and Means Committee Chair Joey Salceda's remarks that Congress, through an independent panel, will fight agricultural smugglers.
The Albay representative said his panel will "focus strongly" on helping the Marcos administration in its crackdown on smuggling.
"President Marcos wants to fight the double whammy of high domestic agri prices and high rates of agri smuggling which benefit only the smugglers. We join him in that fight," he said. (PNA)